DENVER -- SCTE Cable-Tec Expo -- Huawei Technologies Co. Ltd. 's U.S. set-top strategy is gathering some momentum, with multiple sources confirming that the Chinese giant has scored deals to sell Digital Terminal Adapter (DTA) devices to two mid-sized MSOs: Suddenlink Communications and Mediacom Communications Corp. .

Sources say Suddenlink has ordered about 7,000 DTAs from Huawei for the basis of a pilot analog reclamation project. If that goes well, the MSO could order at least 70,000 more. Suddenlink had no comment.

As for Mediacom, specific details on that DTA arrangement aren't yet known. The MSO has indicated that it intends to use DTAs aggressively but has not revealed any supply partners for the digital-to-analog devices.

Huawei likewise has not publicized any DTA agreements, but it has revealed relationships with both MSOs for optical network gear. Of most recent note, Mediacom announced Wednesday it would install Huawei's OSN6800A platform to provide Next-Generation Dense Wavelength Division Multiplexing (NG-DWDM) transport for a 4,000-kilometer backbone network reaching parts of Missouri, Iowa, and Minnesota. (See Mediacom Picks Huawei.)

U.S. box strategy starting up
Although optical gear has helped Huawei score some early U.S. MSO wins, it's still just getting its domestic set-top plans off the ground. In September, the Chinese vendor filed a waiver request at the Federal Communications Commission (FCC) that, if approved, would allow it to sell DTAs with embedded security to U.S. cable operators. The FCC has yet to act on Huawei's request. (See Huawei Takes On US Set-Top Market.)

Here at the show, Huawei is showing off two DTA models: a "3.0" model that's designed to work on Motorola Inc. (NYSE: MOT) cable networks, and a much smaller "4.0" version that can run in both Moto and Cisco Systems Inc. (Nasdaq: CSCO) cable digital video environments.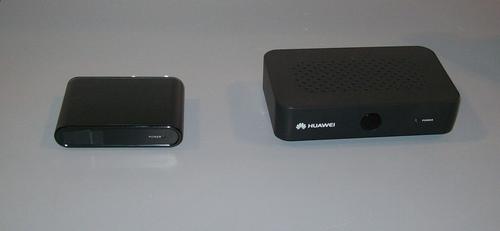 It's believed that the 3.0 version is the one getting traction at Suddenlink and Mediacom. Huawei, sources say, is trying to get the 4.0 version deployed at Comcast Corp. (Nasdaq: CMCSA, CMCSK) as the MSO continues to expand its "Project Cavalry" analog reclamation initiative. Comcast already buys DTAs from Cisco, Motorola, Pace Micro Technology , and Thomson S.A. (NYSE: TMS; Euronext Paris: 18453). (See Comcast's $1B Bandwidth Plan .)

Huawei officials here say the company is also developing a more advanced HD box for the domestic cable market that will bake in tru2way and a CableCARD slot.

If it proves successful, a set-top strategy would further Huawei's ambitious reach into the U.S. cable market. It also has inked a deal to supply gear to Cox Communications Inc. for that MSO's 3G/4G wireless network buildout, and has purportedly won a piece of Comcast's IP Multimedia Subsystem (IMS) business. (See Cox, Huawei Make Wireless Connection and Huawei, Ericsson Get a Piece of Comcast's IMS Action .)

— Jeff Baumgartner, Site Editor, Cable Digital News