Huawei: 5.5G paves way for intelligent, digital societies
The next advancement in 5G capabilities, which Huawei calls 5.5G, promises huge benefits for both citizens and mobile network operators (MNOs).
This is the firm view of John Gao, President of Huawei's 5.5G Domain. "5.5G will contribute to a more digital and intelligent society," he told Light Reading at this year's Mobile World Congress (MWC).
MNOs, he argued, can also gain from 5G's next stage. The opportunity to break free from restrictive business models limited to selling traffic volumes, indicated Gao, was there for the taking.
"I personally think the ARPU [average revenue per user] that MNOs have had over the last few years does not reflect a reasonable business model they deserve," he asserted. "That's because communication service capabilities are improving but revenues are not growing."
Gao, who delivered a rallying keynote speech at MWC entitled "Bring 5.5G Into Reality, Build A Better Intelligent World," reiterated his optimistic industry message to Light Reading. "It's hoped that MNOs can seize the opportunities presented by 5.5G and rebuild a sustainable and reasonable business model," he said.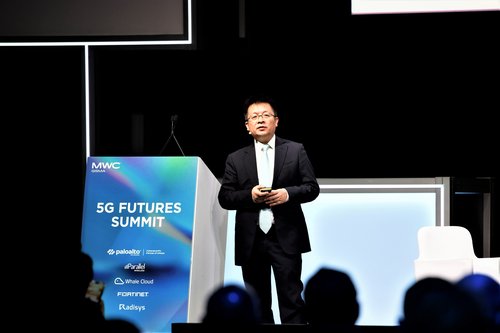 Tenfold capacity improvements
Gao outlined several ways in which 5.5G can turbo-charge 5G. Perhaps the most striking enhancements are tenfold increases in capacity, both on the downlink and the uplink. Today's peak throughput on the 5G downlink is 1Gbit/s but 5.5G promises speeds of up to 10Gbit/s. On the uplink, Gao predicted up to 1Gbit/s.
Capacity enhancements of this sort, he argued, will be necessary for MNOs if they are to cope with surging increases in data traffic and generate more profitable revenue from both consumer and business-to-business markets.
"In the future a lot of content will be generated by machines, which will have a large traffic impact on the network," said Gao. "5.5G will be able to support very large network capacity and lower cost per bit."
One striking use case for higher uplink capacity, he added, is the upload of large volumes of AI training data, which is the information used in machine-learning algorithms to 'learn' how to perform a specific task.
In China's automotive industry, this is already becoming a trend. Last year, noted Gao, more than seven new million EVs (electric vehicles) were sold in China, of which around 30% supported L3 autonomous driving. "Such types of vehicles can generate between 20GB to 30GB of data every month for AI training," said Gao.
Deterministic experiences…
Current cellular networks have fluctuating latency, which makes it difficult to offer predictable, deterministic end-user experiences. Not so with 5.5G, said Gao, which has reliability and low latency built in. In terms of campus networks, added Gao, 5.5G provides comprehensive 5GtoB capabilities with high reliability and deterministic latency, as well as ultra-large uplink throughput and high precision positioning.
Deterministic latency is not only conducive to supporting V2X (vehicle-to-everything) services and sensing, which usually have very high stability requirements, but also for future XR applications. According to Gao, 5.5G will be vital to enable the metaverse.
…boosted by AI
Another facet of 5.5G is greater use of AI. This too, explained Gao, will help provide service assurance. Although some 5G deployments can support network slicing, for example, it is usually limited to one base station and there are no service level guarantees.
"With AI capability injected, we'll be able to see coordination among base stations in certain areas or even in one city to support network slicing," said Gao. "Base stations can then adapt to changing services and interference requirements and provide deterministic experiences. Moreover, with intelligence injected into the network, we'll be able to better support new applications, such as ChatGPT, and at the same time optimize power saving."
Ready for Passive IoT boom
By moving to a high-capacity, low latency and high-precision positioning network – in the shape of 5.5G – Gao maintained that only a single network was needed "to support all kinds of IoT scenarios", ranging from Redcap, passive IoT and connected vehicles. "There's no need to deploy UWB [ultrawideband], Wi-Fi, Bluetooth or other types of technologies," he said.
Gao sees huge potential in Passive IoT to unlock new business opportunities for MNOs. Passive IoT opportunities abound, said Gao, in enterprise asset inventory, digital management of production lines, logistics and the tracking of fast-moving goods. "Some studies find that 30% of assets in large enterprises are not being used or tracked," said Gao.
In manufacturing, production materials can be digitally identified at the supplier side and then digitally managed on the production line. "This can lead to 20% product efficiency improvement," said Gao.
How to prepare for commercial 5.5G deployment
The starting point for preparing 5.5G commercial launch, said Gao, is spectrum. He encouraged operators to pitch for more bandwidth in the upper portion of sub-6GHz and to acquire mmWave frequencies at 26GHz and 28GHz. Re-farming spectrum used in 2G and 3G networks, he added, was another useful way to expand the spectrum base of 5.5G.
"Operators need to clarify their 5.5G device requirements on band combinations," asserted Gao. "By working together on this, they can provide useful input to device suppliers and send clear messages to industry."
Gao can already see driving forces for 5.5G adoption, particularly in China and GCC (Gulf Cooperation Council) countries. In China, Gao sees use cases requiring network advances being adopted faster than in other countries, including mobile payment services and unmanned delivery vehicles. In GCC countries, Gao identifies an eagerness to build network infrastructure that supports the metaverse.
In his keynote address at MWC, Gao said 2023 will be a "pivotal year for 5.5G". Progress, he pointed out, has moved much faster than predicted in standards, spectrum availability, industry ecosystems and applications.
Huawei, he emphasized, is committed to working with industry partners to accelerate 5.5G commercial deployment.
This content is sponsored by Huawei.