Hotspots Open Up
Over 50,000 global hotspots could be made accessible to roaming wireless LAN users by the end of next year.
That's the bullish claim made this week by the
Wireless Broadband Alliance (WBA)
, following the addition of a further eight carriers to its initial club of ten industry members.
In March this year
Korea Telecom
,
China Netcom Corp. Ltd.
,
Maxis Multimedia Sdn Bhd.
(Malaysia),
StarHub
(Singapore), and
Telstra Corp.
(Australia) agreed to open up their networks to allow wireless LAN users to roam from one country to another (see
Asia Opens Up to WLAN
). This initial set of players aimed to give users access to 8,600 linked hotspots.
Three months later
British Telecommunications plc (BT)
(NYSE: BTY; London: BTA),
T-Mobile (UK)
,
T-Mobile USA
,
IBM Corp.
(NYSE: IBM), and
NTT Com
(Japan), joined the gang, increasing the total number of open hotspots at the time to 13,000, with a goal of 26,000 by the end of this month (see
Hotspot Roaming Fires Up
).
Yesterday saw the inclusion of European heavyweights
Telecom Italia SpA
(NYSE: TI) and the Austrian, Czech, German, and Dutch subsidiaries of
T-Mobile International AG
, together with Asia's
CSL
(Hong Kong),
Smart Communications Inc.
(Philippines), and
TA Orange
(Thailand).
The alliance claims this extra weight will double
again
the number of hotspots available to traveling customers within the next twelve months, as shown in the diagram below: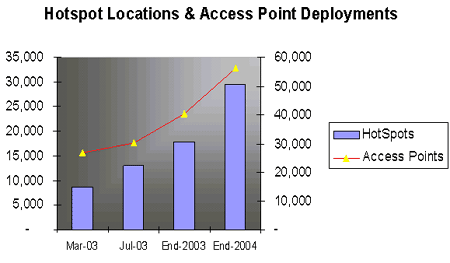 "We currently have seventeen operators globally and expect to have more than 30 members by the end of next year," Kyong Yu, chairman of the alliance, tells
Unstrung
.
Industry opinion on the alliance remains mixed, with some observers noting that the WBA appears to be an attempt by large carriers to grab market share from wireless aggregators such as
iPass Inc.
(Nasdaq: IPAS) (see
iPass Integrates Eurospots
and
iPass Has 1000 Hotspots
).
Steve Andrews, managing director of
BT Retail
for products and enterprises, claims otherwise, stating that the WBA will make wireless LAN access simpler for travelers. "It means one common brand to look for," he argues.
— Justin Springham, Senior Editor, Europe,
Unstrung
PARTNER PERSPECTIVES
- content from our sponsors