The number of public wireless LAN hotspots in Europe and the U.S. has been tipped to double in the next year, as both regions prepare to grab a larger slice of the global market pie.

So says the latest research from the crystal ball gazers over at Pyramid Research, which suggests that Asia's apparently unassailable lead may be set to fall, as competing continents jump aboard the hotspot bandwagon.

"The U.S. and Europe will take a larger share of the pie," says analyst John Yunker. "Both regions have a lot of growing to do. They are moving at a pretty rapid pace and are both going to double over the next year. There are a lot of pending announcements due, and there are some countries where we know WiFi is coming -- for example, the Czech Republic."

According to the company's sums, the number of hotspot locations globally will surpass 45,000 by the end of this year (see chart below). Although more than half of these hotspots will reside in Asia, Yunker is quick to point out that Korea's rapid development in this space clouds the real picture.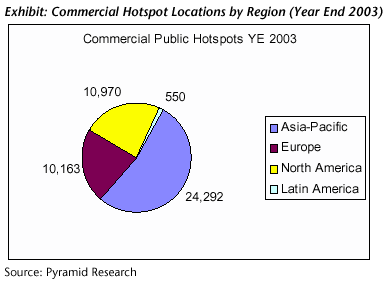 "If you remove Korea Telecom from the equation, the three major regions are all roughly moving at the same pace," he notes. "It is the exception to the rule. Asia is then more or less on a par with the U.S. and Europe."

In all, Yunker expects to see more than 100,000 hotspots deployed by early 2005, compared with less than 20,000 at the end of 2002.

— Justin Springham, Senior Editor, Europe, Unstrung