Like some unemployed stiff in the Herbert Hoover era depression, the telecom industry has fallen into a morbidly depressed state of mind. The Great Depression had Hoovervilles, we have our own Ebbersville. The poor telecom soul wonders: Where's the chicken in my pot? Will I ever work again?

In short, yes. There's growing evidence that we are reaching the final stages of "bubble aftermath" in which the excesses of the 90s are being flushed out of the system. Deep down below, the wheels are churning toward recovery. But you've got to finish clearing the worksite before you can lay a new foundation.

Stock market enthusiasts like to talk about the market being a "discounting mechanism" that prices in bad news before it's widely known. How efficiently this mechanism functions is a matter of debate, but there's no doubt it provides us with an important barometer of the industry. For years, the telecom industry has been the dartboard of the stock market and the financial press. Jokes about Bernie Ebbers and horror stories of the telecom capacity glut proliferated. And it was all, largely, true. We stunk up the joint.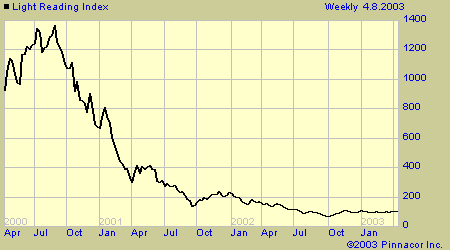 That's why I was slightly shocked the other day when I picked up a copy of Investor's Business Daily and glanced at the chart that appears every day on page B4 – "Industry Group Rankings." This chart measures the relative health of 197 industry groups as measured by price performance in the stock market.

Can you guess which category was Number 1? That's right: "Telecom – Fiber Optics." It has occupied the Number 1 spot for several weeks. Shock and horror! Number 1? Six months ago, it ranked Number 181. For many months in 2002, it was dead last, at Number 197.

Related sectors have climbed up the ladder. "Telecom – Equipment" ranks Number 37, whereas just six months ago it ranked 123. And "Telecom – Services" ranks 67, up from 132 six months ago.

I won't use this data as a springboard for another recovery cliché ("Good times is just around the corner!"). But going from Number 186 to Number 1 in six weeks is a remarkable recovery – at least, on paper.

There's other evidence that things are stabilizing in the telecom market. Recently, several service providers have indicated to me that bandwidth prices and capital spending have been stabilizing. And broadband – one great hope for new services – appears to be maintaining a healthy pace of growth.

But before we take it to the next level, there's more house-cleaning to do. The market, for many years, has been wrestling with huge supply-and-demand imbalances. The market will work to eliminate the excess supply until the equation is balanced again. It's as natural as water flowing to the sea.

If you think about the levels of excess supply that were attained in this industry, there's no mystery to why the recovery is taking so long. There were colossal oversupplies of everything: capital, labor, startups, components, systems, capacity. Many of these still exist – especially startups, capital, and components. Think about certain public companies with revenue approaching zero but with hundreds of millions of dollars left in the bank. Unfortunately, righting such a misallocation of capital could take years – and it's akin to drip-torture when you're waiting for the market to thin out and price competition to abate.

Much has been made about demand. True, new applications, which would provide a boost in demand and speed up the supply/demand balance, could explode out of nowhere. It happened to the PC industry in the late eighties with the spreadsheet and word processor; and it happened with the Internet in the 1990s with email and Web browsing. It's likely that exciting new applications will come onto the scene and promote demand in the next five years, but will it come in the next six months? That seems a foolish hope, to me.

There is no doubt that telecom will be a viable industry again – that's why the money has recently voted it back into IBD's Number 1 spot. When you've spent that long on the bottom, there's only one direction to go.

— R. Scott Raynovich, US Editor, Light Reading