11:35 AM -- He's baaaack. After a brief hiatus in which Sprint Corp. (NYSE: S) used actors in awkward situations to promote its unlimited plans, CEO Dan Hesse has returned to the small screen to explain to consumers what "unlimited" really means and, more directly, illustrate how his competitors don't get it. (See Sprint CEO Taunts Competitors Over Unlimited.)

In announcing the new commercial, Sprint stated that 10-time commercial star Hesse has become a trusted voice. This isn't a statement you would see in years past where most CEOs were not well known, much less trusted.



But, Sprint's point is a fair one, as it pointed out in the following chart (see below) that was embedded in its press release. Unlimited is a message that should resonate with a lot of consumers who fear the uncertainty of overages. Hesse didn't go as far as to promise Sprint would never subject its customers to the tactics of its competitors, but, for now, Sprint's pricing message should work to its advantage.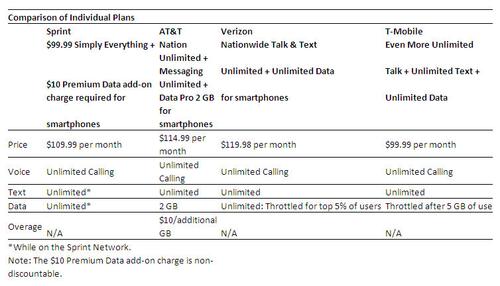 And, as far as if Hesse is a trusted voice of reason, some viewers think so. One commenter noted, "That guy look[s] and sounds like your friend's hip, cool dad. You know the one that smiles a lot and drives a Porsche."

I guess if you'd trust a smiley guy in a Porsche, then mission accomplished, Sprint.

— Sarah Reedy, Senior Reporter, Light Reading Mobile