There's a new place to get a regular reality check on how network operators view key issues and technologies. Heavy Reading's new Thought Leadership Council (TLC) uses a focus group approach to let industry leaders candidly share their thinking on a variety of key topics, including automation, the Internet of Things and 5G, among others.
TLC will issue two to three reports per year on each of six different topics (so, up to 18 reports total per year), and because they won't identify participants or their companies, these reports will reflect real-world conditions, not marketing hype or wishful thinking, says Denise Culver, Heavy Reading 's online research director, who is overseeing the reports. TLC members will be drawn from the global operator base and from a diversity of carrier types: wireline, mobile, cloud, fiber, data and broadband network operators.
The first report, a summary of which can be seen here, includes a realistic assessment of the hard work ahead for communications service providers to actually grow revenues in delivering IoT. Even as revenues are projected to reach as high as $267 billion by 2020, the TLC members say it will be five to ten years before IoT revenues reach a 10% threshold.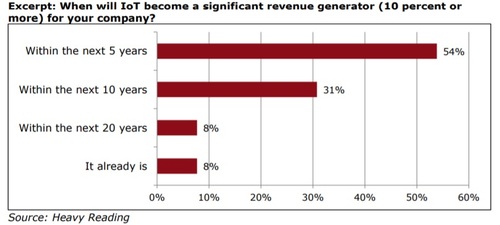 Heavy Reading is well established as a telecom industry market research group but this new initiative takes a slightly different turn, say Culver and Dennis Mendyk, senior vice president of research.
"It's a qualitative adjunct to what we normally do with core research, where we are doing surveys of network operator professionals that produce good numbers but don't offer color commentary," Mendyk comments. "With the Thought Leadership Council, we will have a series of focus groups set up to give us that qualitative piece."
TLC's six topics of choice are: IoT, automation, SD-WAN, 5G, B-OSS transformation and emerging technology, which includes artificial intelligence, machine learning, virtual reality and more. Culver is already finding TLC focus group participants are more frank in their discussions, because they don't have to worry about being identified by name or company name. She cites a recent instance in which one participant admitted a key vendor selection was heavily influenced by his management's relationship with a vendor but when the choice backfired, deployment of a key technology was delayed by a year.
"That's the kind of thing people are less likely to want to share if they are working through corporate PR or marketing folks," she says.
Each focus group will have about 15 members, with the expectation that as some rotate out, others are added. Each area of focus will produce a report roughly three times a year. The first report, on IoT, came out last Friday and a summary can be seen here.
— Carol Wilson, Editor-at-Large, Light Reading