A new report from Heavy Reading indicates that VOIP is already widely deployed across most carrier networks and that service providers are planning a mass transition to VOIP networks for the future.

The report, "The Future of VOIP: A Heavy Reading Service Provider Survey," is based on the results of a survey of 176 service provider employees, representing more than 130 different carriers.

In a clear demonstration of wide acceptance, 77 percent of the service provider employees surveyed said they had already deployed VOIP networks. Another 13 percent expect to deploy them in the next 12 months.

Despite that wide acceptance, however, VOIP traffic levels remain relatively low, and present a large opportunity for growth. More than half of respondents said that less than 10 percent of their traffic, in both access and core, is VOIP today -- and the proportion of customers with VOIP-enabled terminals or handsets is even lower. The carriers surveyed expect this traffic to grow dramatically over the next two years.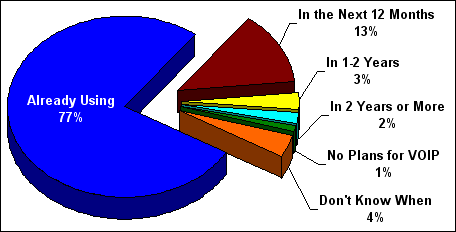 "Carriers expect a big surge in the proportion of voice traffic that is VOIP," writes Graham Finnie, Heavy Reading senior analyst and author of the report. "Half the respondents said more than 50 percent of their voice traffic would be IP by 2007, with relatively little difference expected between VOIP in core networks and in access networks."

One of the biggest drivers of the VOIP migration is apparently fear that their competitors will steal their traffic, especially among ILECs. More than three-quarters of ILEC respondents saw fear of traffic loss as somewhat or critically important.

Fear isn't the only factor, however. Respondents mostly cited a range of reasons for deploying VOIP, the most important of which were the desire to enter new market sectors and the need to exploit the growth in broadband and the emergence of IP as a universal protocol.

Finnie noted that the survey showed that integration of wired and wireless services, often referred to as fixed/mobile convergence, did not appear to be one of the biggest drivers of VOIP.

"Although VOIP makes it easier to converge fixed and mobile services and add 'nomadicity' to services, these were not generally considered as important," writes Finnie. "WiFi and voice over WiFi also have relatively little resonance for now."

The 32-page report also includes detailed analyses of pricing and capex/opex cost expectations, and an analysis of which VOIP equipment is likely to be favored in new deployments. It's available here.

— R. Scott Raynovich, US Editor, Light Reading