GSM Drives Growth
3G and WiMax may be the buzzwords of the moment, but it's plain old "second-generation" GSM (Global System for Mobile communications) technology that continues to drive industry growth, according to the latest
Unstrung Insider
report.
The report –- "Open Base Station Bonanza" –- finds that increasing demand for GSM technology from emerging markets has been a serious catalyst in boosting cellular network sales.
"After several years of decline, the mobile infrastructure market took an upswing in 2004, with annual growth of between 15 and 20 percent bringing its total value to between $45 and $50 billion," writes report author Gabriel Brown. "For most pundits and vendor executives, this came as something of a surprise, since at the end of 2003 nearly everyone had predicted a flat year in 2004. In large part, the 2004 upswing was due to higher demand for mobile infrastructure from emerging markets."
Emerging markets include Eastern Europe, the Middle East, and Africa, where a low penetration of fixed-line networks has fueled demand for basic wireless voice and data services based on GSM technology.
"In 2005, the mobile infrastructure market will still be dominated by GSM, particularly in emerging markets," notes Brown.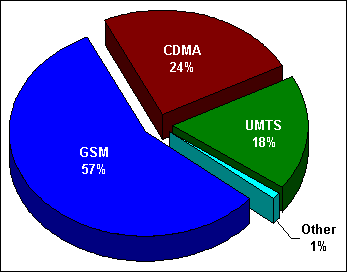 "There is a lot of potential left in GSM," states
Ericsson AB
's (Nasdaq: ERICY) CEO Carl-Henric Svanberg (see
Ericsson's CEO Boasts
). "During 2004 alone, Ericsson shipped GSM transceivers corresponding to 40 percent of the total volume we had delivered since the introduction of GSM. 2005 is expected to present yet another record."
Eiji Aono, mobile equipment analyst at
Credit Suisse First Boston Corp.
, estimates that emerging markets accounted for 45 percent of mobile infrastructure spending in 2004 and predicts that this share will rise to 55 percent in 2007.
Ericsson certainly appears to agree. "Most players are targeting the emerging markets, because that is where subscription growth is," commented Torbjorn Nilsson, Ericsson's senior VP of product management, at the company's capital markets day in Stockholm earlier this month.
— Justin Springham, Senior Editor, Europe,
Unstrung
The report,
Open Base Station Bonanza
, is available as part of an annual subscription (12 monthly issues) to
Unstrung Insider
, priced at $1,350. Individual reports are available for $900. To subscribe, please visit:
www.unstrung.com/insider
.
PARTNER PERSPECTIVES
- content from our sponsors