Cisco Takes Energy Management to the Home

Comment (0)
Cisco Systems Inc.
(Nasdaq: CSCO) took its smart-grid strategy, first detailed last month with new ruggedized routers, to the home today with the introduction of its home energy management system. (See
Cisco Tailors Router & Switch for Smart Grid
.)
The system will first be tested for a year in Charlotte, N.C., and Cincinnati with 100 Duke Energy customers who are already equipped with smart meters. Then it will be opened up to other utilities in North America toward the end of the year. Mathin De Beer, senior vice president of the emerging technology business group, detailed the new system at the
Cisco Live
event in Las Vegas today.
The home energy management system revolves around the Home Energy Controller (CGH-100), a kitchen-counter touchscreen device from which users can monitor their electricity usage and reprogram their appliance usage to realize cost savings.
The controller is actually a full portal to the Web, and De Beer said that cloud-based applications can make it a sticky product with consumers. It will also display appliance management tips and hints for better energy usage. The device is customizable by the individual utility, which also decides on the business model and, through Cisco's hosted energy management services, can remotely manage it for demand response programs.
"Think of it as a portal that could give you advice and let you tap into a range of applications as well if you should choose to," De Beer said.
It also works with any networked device in the home, including those outside of Cisco's proprietary reach. The devices run over IP through Zigbee or WiFi, De Beer said. Cisco plans to add support for other protocols in the future.
According to a study released today by the American Council for an Energy-Efficient Economy (ACEEE), smart meters are not enough to cause consumers to make a change. They need easy-to-use, residential feedback tools and real-time, Web-based feedback devices. It cites
Google
(Nasdaq: GOOG)'s PowerMeter, in use by several utilities, as an example, but Cisco's new device fits the bill as well. (See
Utility Tests White Spaces for Smart Grid
.)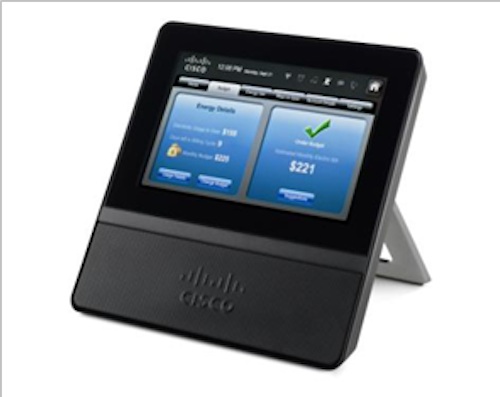 Cisco's enterprise energy push
In addition to the controller, Cisco unveiled the Cisco Network Building Mediator Manager 6300, which lets a utility manage hundreds of buildings from a central location, and the Cisco Network Building Mediator 3.1, which links disparate building automation systems and protocols over IP.
De Beer said he believes the smart grid will actually take off faster in the enterprise than in the home.
"We see the network evolving as a common platform for all verticals," added Wim Elfrink, chief globalization officer and EVP of Cisco services. This includes sports and entertainment, transportation, home networking, the enterprise and others. "It's about sustainability," he said. Cisco is certainly not the only company targeting this burgeoning space, but it might be the biggest. Telcos are another group courting the utilities and picking up some traction.
AT&T Inc.
(NYSE: T), for one, yesterday inked a deal with Current Group to pitch Current's smart grid distribution solutions to North American utilities. (See
AT&T, Current Group Team on Smart Grid
and
Can Utilities & Telecom Team on Smart Grid?
) — Sarah Reedy, Senior Reporter,
Light Reading Mobile