As new and incumbent operators look for ways to complement deep fiber with fixed wireless connections, the Wi-Fi Alliance has announced today the launch of its WiGig certification program, a program designed to further the spread of the 802.11ad specification and low-latency, multi-gigabit wireless broadband.
The Alliance is also announcing the first certified WiGig devices. These include chipset product and reference designs from Intel Corp. (Nasdaq: INTC) and Qualcomm Inc. (Nasdaq: QCOM), WiGig adapter reference designs from Peraso and Socionext, and the Latitude E7450/70 computer from Dell Technologies (Nasdaq: DELL).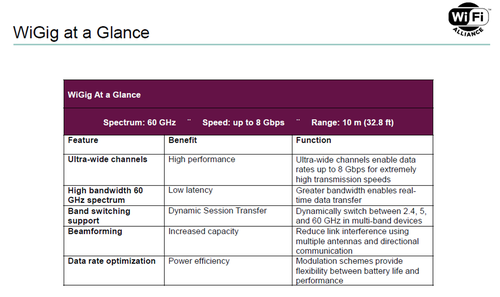 Most notable about the WiGig standard is the fact that it operates in the 60GHz frequency band. That high-frequency spectrum puts WiGig in the realm of millimeter wave technologies and even has the Alliance's VP of marketing, Kevin Robinson, describing it as an early 5G implementation.
"WiGig specifically will absolutely play a role in addressing 5G use cases," says Robinson, "and in fact we would say that 60GHz, or WiGig really is probably the first example of a commercially available 5G technology."
The capabilities of WiGig include its ability to deliver low-latency connectivity combined with high-speed data rates up to 8 Gbit/s. But there are trade-offs as well. WiGig is a line-of-sight technology and has a standard range only up to 10 meters. There are some cases in which that range may be extended. According to Robinson, WiGig devices may reach beyond the 10-meter mark in point-to-point configurations and with the use of specialized antennas, making the technology suitable for cellular backhaul.
---
For more on wireless networking trends, visit the dedicated Cable WiFi channel here at
Light Reading.
---
WiGig is interesting enough that both Facebook and Google (Nasdaq: GOOG) are experimenting with the technology; Facebook with its Terragraph system in San Jose, and Google through its acquisitions of Alpental and Webpass. Both companies hope to use WiGig to spread high-speed wireless broadband access within metro areas. (See Facebook Lauds Terragraph Cost Savings, Google's 5G Radio Ambitions Are Expanding and Google Fiber Now a Wireless ISP!)
Perhaps more immediately, the practical applications for WiGig include fast, local file transfers, the ability to stream bandwidth-heavy video from a mobile screen to a larger display, and the ability to support virtual and augmented reality headsets.
Among the important characteristics of WiGig, the technology works in concert with other existing WiFi standards. Using dynamic session transfer, WiFi products will be able to switch dynamically between standard 2.4 and 5GHz frequency bands and the 60GHz band used by WiGig. Beamforming within the WiGig spec also reduces signal interference, and power efficiency characteristics of the standard allow devices using WiGig to alternate between modes that emphasize either performance or battery life.
Although WiGig certification is just getting off the ground, the expectation is that WiGig products will ship in volume in 2017. ABI Research predicts that 4.7 billion WiGig chipsets will ship by 2021.
— Mari Silbey, Senior Editor, Cable/Video, Light Reading