Power Brokers: Utilities Explore Their Role in 4G & 5G
5G is certainly all the rage right now, so it's no surprise that some of the nation's biggest utility companies are working to figure out whether they have a role to play in the space. However, it's unclear whether that role will position utilities as 5G operators, customers or both.
One trend is growing increasingly clear though: Utilities are very interested in launching their own private wireless networks using 4G LTE technology.
Utilities are in the very early stages of exploring 5G, too. For example, the Utilities Technology Council (UTC) recently commissioned a white paper that outlines how utilities might play in a 5G world. The white paper represents an important part of the conversation because the UTC is a major mouthpiece for utility companies; the association was founded in 1948 to advocate for spectrum for utilities, and now it represents a who's who of electric, gas and water utilities, as well as natural gas pipeline providers, critical infrastructure companies and others in the industry.
According to the group's 5G white paper, utilities could potentially help wireless network operators deploy 5G by providing locations for small cells and base stations or, potentially, fiber for backhaul. Already Xcel Energy -- the eighth-largest electricity utility in US based on market value -- confirmed that it is working to provide unnamed wireless network operators access to the 180,000 street lights it owns throughout Colorado and elsewhere. The utility said it had received roughly 1,000 small cell installation requests so far.
Utilities could become 5G customers or even 5G network operators. The white paper speculates that utilities could purchase 5G connections, or network slices, from commercial wireless network operators like Verizon and AT&T for applications like remote drone inspection of power lines, or VR headsets for technicians so they can better see how to repair things. Indeed, Verizon just announced it would provide 4G connections for thousands of Peninsula Light Company (PenLight) electricity meters.
But, according to the UTC, utilities probably won't want to buy 5G connections when they could build their own. "Utilities will also wish to participate in the 5G world by acquiring spectrum in order to have the option to construct their own private 5G networks and integrate them into a 5G world," the association wrote, noting utilities could use their own private 5G networks for things like greater security, low-latency services, and coverage in areas not served by commercial operators.
The UTC's position on 5G network ownership doesn't come as much of a surprise. Most utilities already own extensive private telecommunications operations -- from fiber to copper to wireless microwave networks -- in part because commercial providers don't provide services in some areas. Also, utilities don't want to be at the mercy of commercial providers in emergencies. The UTC said that in its latest survey of US utilities conducted earlier this year, three-fourths of respondents said they own 80% or more of their networks. The group said that only one small public power utility reported less than 40% ownership of its network.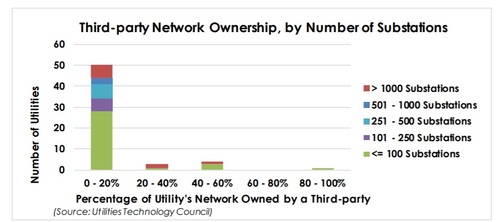 Teeing up 4G for utilities
Although the UTC is investigating what 5G might mean for utilities, it's clear that the technology isn't really on the front burner. "5G [for utilities] is probably a little premature," said Alan McIntyre, engineering director for Southern Linc, a wireless company that's owned by the nation's fourth-largest electric utility. "It's often a challenge for utilities even to get to 4G LTE."
Southern Linc, it turns out, is a bit of an outlier in the utility industry. Its parent company, Southern Company, manages power and gas services in several Southern states like Alabama and Georgia, but also operates an extensive, commercial LTE network under the Southern Linc brand throughout the Southeastern US, selling wireless phones and services to people who live there. Thus, the company's LTE network plays a dual role in terms of providing commercial services while also helping to monitor the company's power and gas operations.
McIntyre said he believes Southern Linc is the only major utility with its own LTE network. But it's certainly not the only one interested in building one.
"Duke Energy is currently evaluating the potential for establishing its own private broadband LTE system that could provide the enhanced network systems and services necessary to support its current and future mission-critical communications network needs," the company wrote in a recent FCC filing.
Duke is the second-largest utility in the US by market value, providing electricity and gas service to 7.5 million customers over 95,000 square miles across seven US states. Like most utilities, Duke operates an extensive telecom network that stretches across both wireless and wireline technologies. And like most utilities, the company is working to keep pace with technology. "The recent dramatic growth in the number of communicating intelligent devices is anticipated to continue to grow at an ever-expanding rate for the foreseeable future, which, in turn, drives the ever-expanding need for enhanced broadband wireless communications networks to provide reliable and secure networking capabilities between them," the company wrote.
"Broadband is needed more and more and more," Southern Linc's McIntyre acknowledged.
The UTC agrees: "Grid modernization and streaming video drive … growth in bandwidth consumption."
That's part of the reason why McIntyre's Southern Linc joined the new Utility Broadband Alliance (UBBA), which is specifically designed to help educate utilities on what their options are when it comes to LTE-powered private wireless networks. Such networks promise to meet the needs of utilities in terms of coverage and cost, considering wireless networks are easier and cheaper to build than wired networks.
"A private LTE system owned, operated and maintained by energy utilities for their exclusive use would improve both capacity and connectivity, and would provide such utilities with a wireless network that is inherently more reliable, more secure, and less susceptible to disruptions or other malicious activity than are the commercial services and other private network systems currently available," Duke argued.
UBBA members include utilities like Ameren, Evergy, National Grid and Xcel, as well as vendors like Ericsson, Cisco and Motorola Solutions.
It's worth pointing out that a wide range of LTE vendors are salivating at the prospect of private wireless LTE networks; Nokia's CTO recently predicted the private wireless opportunity could be twice the size of the commercial LTE opportunity. Already companies like Facebook and Charter are testing private wireless LTE networks.
Next Page: How will utilities get the spectrum they need and what happens next?
UPCOMING LIVE EVENTS
June 6-8, 2023, Digital Symposium
June 21, 2023, Digital Symposium
December 6-7, 2023, New York City
All Upcoming Live Events
PARTNER PERSPECTIVES
- content from our sponsors