Marcus Weldon, the Nokia CTO and president of Bell Labs, has a theory about the future of networking, and it comes down to two things: the human vestibulo-ocular reflex, and the built-in timing mechanism of a virtualized radio access network.
The vestibulo-ocular reflex stabilizes images for the human brain by compensating for the physical lag between head movement and eye movement. That lag is about 7 milliseconds and it reflects the latency that people can tolerate when using a virtual reality headset.
In a virtualized radio access network (RAN), it happens that latency tolerance is similar. Because of the inherent factors involved in getting to a scalable control plane, engineers have set a maximum of 4 milliseconds for a basestation to respond to a network ping.
Put those two facts together, and it means that both the nature of virtual reality applications and the nature of next-generation networks are driving latency requirements down to the same single-digit thresholds. And once those requirements take hold, the physics of light dictate how far away the edge of a network can be.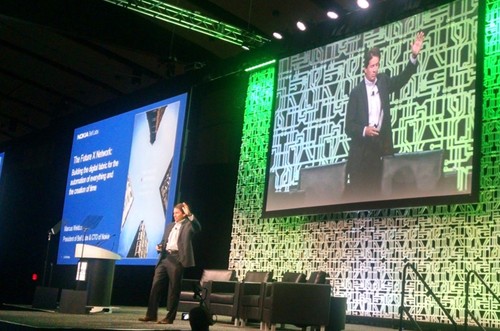 Weldon -- who spoke for Nokia Corp. (NYSE: NOK) at last week's SCTE Cable-Tec Expo conference in Philadelphia -- believes that 100km is the natural target distance for the space between a local cloud site (essentially a data center) and a local network access node delivering services to end users. In that 100km, light can travel one round trip in a millisecond, achieving the latency requirements of future virtual reality applications and virtualized networks.
There's an added benefit to that distance range as well. The shorter the distance that information has to travel over a fiber network, the better the throughput that network connection achieves. In other words, driving latency down by pushing the edge of the cloud closer to consumers also automatically drives bandwidth up. That's important because Weldon projects that bandwidth demand will grow by more than a factor of 60 in less than a decade, fueled largely by virtual reality, which, among other things, creates a field of view that is 20 times the size of today's physical screens. (See also Broadband's 'A Key & a Kite' Moment.)
So what do all of these calculations mean?
First, they coincide conveniently with the way that access network technologies are converging on the same point. Wireless cell sites, DSL nodes and cable nodes all operate in the same spectrum range, and will increasingly operate in the same OFDM mode. (Cable is moving to OFDM with DOCSIS 3.1.) This means that no matter what kind of access node is in place locally, they will eventually all be able to communicate to the same backend systems and make use of the same power sources.
Second, and perhaps even more importantly, in defining the requirements of next-generation networks, Weldon is also defining the current winners and losers in the networking race. Cable companies, with their local infrastructure, have a tremendous advantage, as do, to a lesser extent, the telecom companies that are building fiber deeper into their networks to facilitate future 5G technologies. Internet-born companies like Facebook and Google (Nasdaq: GOOG), on the other hand, are in for a tougher time.
As Weldon says, "local is where the power will be in the future."
---
The rollout of gigabit broadband access networks is spreading. Find out what's happening where in our dedicated Gigabit Cities content channel here on Light Reading.
---
It's not often that an industry expert -- or anyone, in fact -- suggests that the cable industry holds an advantage over the global Internet powerhouses. But Weldon has a point, one on which he expounds further in his book, The Future X Network. The web-scale companies have already virtualized themselves, and it will cost a lot more money for them to build out local infrastructure than it will for cable and telecom companies to virtualize their existing networks.
The Internet-born companies know it too. According to a Heavy Reading report, these web-scale businesses will spend $26.8 billion on network hardware, software and services in 2016. (See Google, Facebook Gaining Network Equipment Clout.)
And The New York Times reports that Google's parent company, Alphabet Inc. , is spending $9.9 billion a year alone in capex, almost all of it targeted at infrastructure development.
If web-scale companies revolutionized information services in the early 21st century, it remains for network operators to take technology into the next phase of development and implementation. Weldon isn't suggesting that cable and telecom companies will do it on their own, but he does believe they will have a significant edge (pun intended) as the next technology era unfolds.
— Mari Silbey, Senior Editor, Cable/Video, Light Reading