Gigabites: Huawei Ups D3.1 Ante to 25 Gigs
It's Friday again. In today's edition of Gigabites, Huawei demos 25-Gig speeds with DOCSIS 3.1, data caps grab headlines again, WOW introduces its first gigabit markets and more.
Just as the cable industry is getting used to the idea of gigabit networks, and even the potential for symmetrical 10-Gig networks with the help of Full Duplex DOCSIS 3.1 technology, Huawei Technologies Co. Ltd. is introducing a new multiplier into the equation. The network equipment provider has announced a prototype solution that it claims can deliver a maximum downstream speed of 25 Gbit/s. With Full Duplex added in, Huawei says the prototype can even enable 25 Gbit/s symmetrically.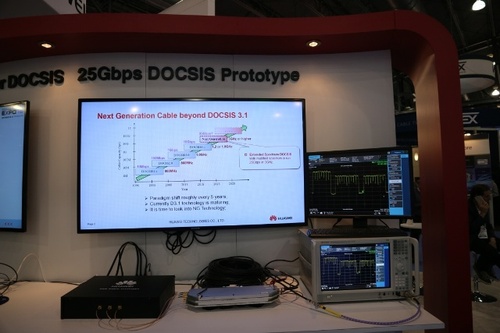 Huawei showed off its 25-Gig solution at the recent SCTE Cable-Tec Expo event in Philadelphia and explained how it's achieving higher data rates over existing hybrid fiber-coaxial (HFC) networks. Using new "high-frequency bandwidth amplification and digital non-linear compensation technologies," the company is extending spectrum use into frequency bands reaching as high as 3 gigahertz. That's way above where cable providers normally operate.
The typical cable plant is probably in the 750-860MHz range today, though some cablecos are undoubtedly still on 550MHz systems. Increasingly, operators are expanding up to 1GHz or 1.2GHz plants -- particularly in order to take advantage of D3.1 -- but 3GHz is unheard of. If Huawei's solution becomes practical in a real-world environment, it could extend the lifespan of legacy HFC networks even further.
---
For more gigabit coverage and insights, check out our dedicated gigabit/broadband content channel here on Light Reading.
---
As network speeds continue to rise, the corollary issue of broadband data caps is also taking on increasing significance. Comcast Corp. (Nasdaq: CMCSA, CMCSK) announced this year that it's raising its data cap (in regions where a cap is deployed) to 1 terabyte per month, and others have followed suit. AT&T Inc. (NYSE: T) announced its terabyte cap a short time later (although it doesn't apply to AT&T's gigabit speed tiers), and now Cox is reportedly doing the same. With Cox Communications Inc. , the terabyte cap applies to most service options, although the company's gigabit service extends the monthly data usage ceiling to 2 terabytes.

As DSLReports notes, 1 terabyte is far more data than most consumers use today, but the question is how that cap will hold up in the future as 4K streaming and virtual reality take hold.
Meanwhile, back in the world of gigabit deployments, several operators announced new gigabit rollouts this week. WideOpenWest Holdings LLC (WOW) launched its gigabit service for the first time in four markets, including Auburn and Huntsville, Alabama; Evansville, Indiana; and Knoxville, Tenn. Cable One Inc. unveiled gigabit broadband in the cities of Globe and Miami in Arizona. And AT&T extended gigabit service to ten new metro areas, with gigabit broadband now available from the telco in "over 3 million locations."
Finally, in case you missed it, Light Reading has now released the first three parts of a four-part series on cable network upgrades. The series looks at how the cable industry is preparing legacy HFC networks to support gigabit applications and more, and it covers both the technology and financial factors weighing on operators as they migrate their broadband infrastructure toward new distributed and virtualized architectures.

Part four in the series will go live next week. You can catch up on earlier posts at the links here: Part 1, Part II, Part III.

— Mari Silbey, Senior Editor, Cable/Video, Light Reading
PARTNER PERSPECTIVES
- content from our sponsors