UK Govt Minister Calls for 'Gigabit Britain' Push
UK Digital Economy Minister Ed Vaizey has called for a "gigabit Britain" push that would ensure consumers and businesses can benefit from multi-gigabit-speed services in the next ten years.
Speaking at this morning's Cloud Expo Europe event in London, Vaizey told attendees that Britain had reached a "fork in the road" as it entered the final phase of a government-backed initiative to extend broadband services into rural communities.
By the end of next year, authorities want to ensure that 95% of the population can access a broadband service of at least 24 Mbit/s.
Critics have urged authorities to set more ambitious targets or risk falling behind other parts of Europe already investing in gigabit-speed infrastructure.
Fielding questions from conference attendees following a morning keynote speech, Vaizey acknowledged that most people think the UK government has been "rubbish" when it comes to broadband, but denied the country was lagging behind the rest of Europe.
"I don't think we've fallen behind competitors in Europe but I accept that we can't be complacent," he said. "We need to push now for a gigabit Britain so that over the next ten years people get the multi-gigabit-speed services they would expect."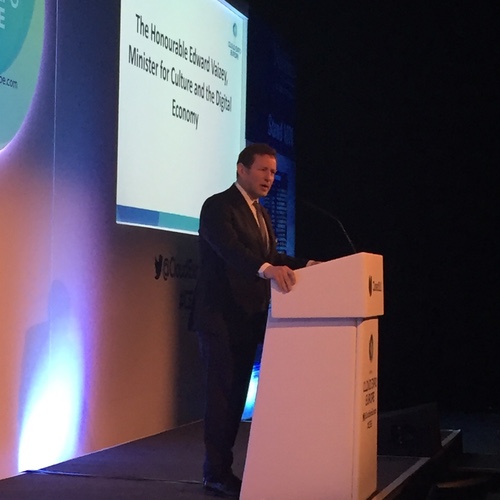 Currently, the highest-speed consumer service available from BT Group plc (NYSE: BT; London: BTA), the fixed-line incumbent, provides a maximum of 76 Mbit/s on the downlink, while cable rival Virgin Media Inc. (Nasdaq: VMED) is marketing a 200 Mbit/s offer in parts of the country.
Gigabit-speed offerings from smaller Internet service providers are available only in certain areas, and some of these still look prohibitively expensive.
A fiber-optic network operator called Gigaclear , for instance, began commercial trials of a 5Gbit/s service in rural communities last November. The operator's consumer package costs as much as £399 ($569) a month. (See UK's Gigaclear Raises $46M for Rural Gigabit.)
Through a partnership with fiber infrastructure owner CityFibre , TalkTalk and Sky , two of the UK's biggest retail broadband providers, have been offering gigabit-speed services to residents of York, but their network still covers a relatively limited number of homes. (See TalkTalk Unveils Cut-Price Gigabit Service.)
---
The rollout of gigabit broadband access networks is spreading. Find out what's happening where in our dedicated Gigabit Cities content channel here on Light Reading.
---
By contrast, major network operators in neighboring France and Spain are investing in fiber-to-the-premises (FTTP) technology that can already support such high-speed connections across a wider footprint. (See Telefónica's Fiber Fix and Optical Options for FTTH/B: Broadband Special Report Part 2.)
BT has resisted pressure to build fiber out to homes and small businesses, preferring to sweat its copper assets for as long as possible.
Last year, the operator announced plans to invest in a technology called G.fast, which improves the performance of last-mile copper connections, but the operator has already indicated that 500 Mbit/s will be the highest speed it can provide on a G.fast network. (See BT Expands G.fast Pilot Plans.)
Opponents of the operator's plans have argued this will be not be enough to support the range of bandwidth-hungry services that consumers will demand in future. Others, including TalkTalk, have accused BT of preventing other broadband players from accessing its network infrastructure on favorable terms.
Vaizey said that an FTTP rollout might ultimately be the answer to the UK's broadband needs, hinting that regulatory changes could aid deployment. "We are looking to sweep aside regulatory obstacles to allow telcos to invest," he said.
The comments came shortly after regulatory authority Ofcom said it would look at reforming Openreach , BT's access network division, so that rivals could more easily access the ducts and poles they need to build their own fiber networks.
UK-based Vodafone Group plc (NYSE: VOD) has argued that similar moves in Spain have already spurred investment in FTTP networks. (See Vodafone Calls for Broadband Regulation Shake-Up in Germany.)
— Iain Morris,

, News Editor, Light Reading
PARTNER PERSPECTIVES
- content from our sponsors