Broadband connectivity offering speeds in excess of 1 Gbit/s will unlock the potential for exciting new services, which in turn will create a global market of between €1.3 trillion and €3.5 trillion ($1.55 trillion and $4.18 trillion) annually by 2025.
According to a new report from consultancy Arthur D. Little, commissioned by Liberty Global Inc. (Nasdaq: LBTY) (LGI), the "GIGAWorld" initiative will unlock a wave of innovation which will generate between €250 billion and €660 billion ($298 billion and $787 billion) per year by 2025, in Europe alone.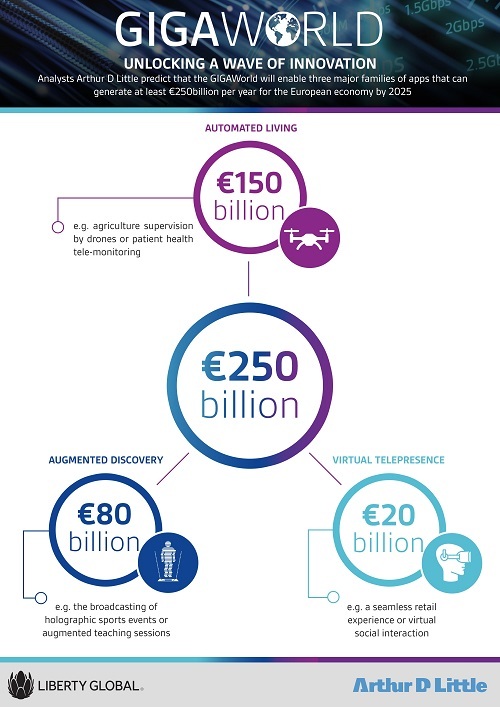 This "GIGAWorld" is defined as a world that has "widespread access to high quality, gigabit internet in which people, machines and the environment collaborate intelligently." This connectivity will result in new technologies such as robot-assisted remote tele-surgery, 3D holographic projections of sports events and skyscraper windows maintained by drone-robots.
Three main application variants will drive this innovation: augmented discovery, virtual telepresence and automated living.
Augmented discovery refers to understanding and interacting with the environment "via a blending of digital content and the physical world, such as holographic events or teaching and training via augmented reality."
Disappointingly the report made no reference to the global value generated from catching Pokemon monsters, but Arthur D. Little expects augmented discovery to generate revenues of between €80 billion and €175 billion ($95 billion and $209 billion) per year in Europe by 2025.
Virtual telepresence is about connecting "across geographic distances" or being able to become immersed in a virtual retail or social environment. It is expected to create revenues of €20 billion to €60 billion ($24 billion and $72 billion) per year in Europe by 2025.
Lastly, automated living, which refers to the transfer of human decision-making and "task execution" to technology, is another benefit. An example would be supervising agricultural activity using drones or monitoring a patient electronically. This market will generate between €150 billion to €425 billion ($179 billion and $507 billion) of revenue per year, according to the report.
The study did warn that the success of this initiative will be dependent on how successfully the innovation cycle is able to function, i.e., how effectively new and innovative applications and devices are developed, networks upgraded to gigabit plus throughput and new monetization models adopted.
The report added that usage and functionality of these new kinds of applications will be heavily dependent on networks; they must deliver high bandwidth, low latency, high reliability, high security, high resilience, widespread coverage and position accuracy (i.e., the ability to determine via the network the device's positioning in three-dimensional space).
LGI launched its "GIGAWorld" initiative last November, outlining plans to deliver gigabit plus speeds across all 12 European countries in which it operates. About 50 million homes in Europe are now "GIGAReady" according to network planning and design vendor Cyient, who LGI is using for this initiative.
— Aditya Kishore, Practice Leader, Video Transformation, Telco Transformation