LinkNYC will start testing free WiFi hotspots in New York City this summer, but it's not at all clear who is providing the infrastructure for this "first-of-its-kind communications network." And no one involved in the project is talking… yet.
The ambitious LinkNYC program is turning old payphone sites into new high-speed WiFI hotspots with kiosks that also offer city information services and outdoor advertising space. A consortium of companies collectively known as CityBridge is leading the project, but in a recent twist, two of those organizations -- Control Group and Titan -- have merged and been acquired by a group of investors led by Sidewalk Labs. Sidewalk Labs was launched in early June with funding from Google (Nasdaq: GOOG) and is being run by former deputy mayor of New York City, Dan Doctoroff.
The LinkNYC model certainly fits in well with a number of Google's businesses, with advertising at the top of that list. Many have speculated too about how Google might combine other recent wireless efforts with projects like LinkNYC, and possibly future similar deployments in additional cities. (See Google's WiFi-First Mobile Service 'Fi' Is Here.)
What's not clear, however, is who is providing the underlying fiber infrastructure for LinkNYC, or whether there's any possibility that Google Fiber Inc. could be involved.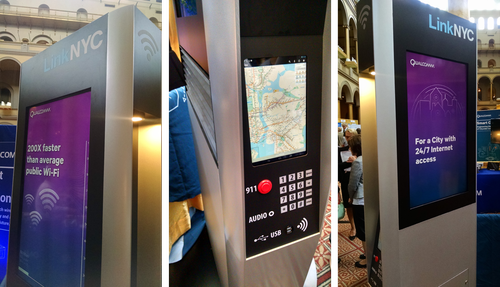 When LinkNYC was announced, the partners listed in the program were Control Group, Titan, Qualcomm Inc. (Nasdaq: QCOM), Comark (a manufacturing company for outdoor hardware), Antenna Design (the company behind the physical design of the LinkNYC kiosks), and Transit Wireless. Transit Wireless, which provides wireless technology for New York City subway stations, was supposed to be in charge of LinkNYC's network infrastructure. However, the company isn't listed anywhere on the CityBridge website today*, nor does Transit Wireless reference LinkNYC on its site.
At the Global City Teams Challenge Expo hosted by US Ignite and the National Institute of Standards and Technology (NIST) on June 1, a Qualcomm representative wouldn't reveal the partner providing fiber connectivity for LinkNYC, but she suggested that an announcement would likely be made in the near future. Initial user trials with the LinkNYC kiosks are scheduled to begin this summer, with actual deployments planned for the fall.
Further investigation on connectivity for the project produced a stream of non-answers. Transit Wireless told me "those details have not been finalized yet," and referred me on to a PR contact for CityBridge, who promised to let me know when more information is available.
Asked if Google would provide any of the fiber infrastructure for LinkNYC, a representative of Sidewalk Labs told me, "We don't have anything additional beyond the statement released yesterday which you can find at www.sidewalkinc.com." He was referring to the news release announcing the acquisition of Control Group and Titan, which have now been merged into a company called Intersection, funded by Sidewalk Labs and others.
A request for information from Google went unanswered.
---
The rollout of gigabit broadband access networks is spreading. Find out what's happening where in our dedicated Gigabit Cities content channel here on Light Reading.
---
When the LinkNYC project is completed, it will support up to 10,000 WiFi kiosks throughout New York City's five boroughs and offer Internet speeds up to a gigabit. Between 400 and 500 kiosks are supposed to be installed by the end of this year, and WiFi service will be free to residents and visitors alike, thanks to advertising revenue. CityBridge also boasts that LinkNYC "will be one of the first free municipal Wi-Fi services in the country to offer an encrypted network connection," and that the city and CityBridge "have worked together to create the most robust and forward thinking privacy policy that is currently available for any municipal Wi-Fi project."
The LinkNYC program promises to be high-profile and a valuable test case for other cities looking at options for WiFi connectivity. And whoever provides the underlying network will be in an enviable position as the trend toward Gigabit Cities continues to grow. (See 6 Steps Towards a Gigabit City and Smart Cities Need Long-Term Goals to Thrive.)
Someday soon, we should know who that provider is.
— Mari Silbey, Senior Editor, Cable/Video, Light Reading
*Editor's note: I believe the CityBridge website used to list Transit Wireless, but I don't have any cached web pages to back that up.