They Want Their Gigabit Now
Despite industry doubts about what broadband users will actually do with 1-Gig service once they have it, there is clearly a strong and growing clamor for the service by consumers.
In our latest Light Reading community poll, a solid majority of readers (58%) said consumers either see the need for gigabit capacity right now to manage their applications or think they will need it as soon as possible to prepare for what's coming down the road. With Gigabit Fever running higher than ever in broadband circles and a number of major telcos and cable operators now rolling out 1Gbit/s and even 2Gbit/s downstream service, less than 40% of respondents said there's not enough consumer need or demand to provide such blazing-fast service today. (See Comcast Targets 6 New Gigabit Markets.)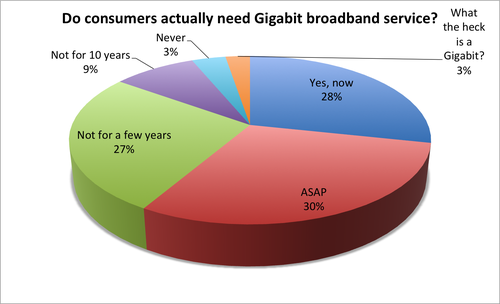 Breaking down the poll results further, more than a quarter (28%) of respondents said 1Gbit/s capacity is needed now to handle multiple bandwidth-hungry apps. That view clashes with the thinking of many broadband industry experts, who say that most consumers don't need more than 100 Mbit/s at home to manage all their online services and apps.
A slightly greater percentage of survey respondents, about 30%, said 1-Gig service is worth getting as soon as possible to be ready for more demanding apps. That thinking indicates that many expect broadband providers to develop and deploy gigabit-caliber services and apps sooner rather than later.
Of course, not everybody is quite convinced that the much-heralded Gigabit Era need start just yet. More than a quarter of respondents (26%) said consumers won't need gigabit service for a few years yet. Another 9% said no one will need 1-Gig service in the next decade. And about 4% said no one will ever really need a gigabit broadband connection. So there are still plenty of skeptics out there. (See Consumers Largely Ignorant About Gig Internet, Says Pivot.)
Regardless of one's views on the need for gigabit broadband, the subject is clearly a hot one. In the three weeks that the poll ran on our home page, it drew responses from more than 1,000 readers, matching polls that have run four weeks or longer.
— Alan Breznick, Cable/Video Practice Leader, Light Reading
PARTNER PERSPECTIVES
- content from our sponsors