Welcome to another Gigabites. This week, Facebook and Google Fiber both flaunt their wireless gigabit plans, while virtual reality apps promise to make good use of gigabit broadband in the near future.
Facebook made some pretty splashy connectivity announcements at its F8 developer conference this week, including a plan to spread low-cost, high-speed wireless broadband to new regions. As part of that wireless strategy, Facebook has partnered with the City of San Jose to test out a new type of technology the company is calling Terragraph. The Terragraph system uses high-frequency spectrum in the 60 GHz band, and Facebook promises to use the technology to bring wireless gigabit speeds to San Jose residents before the end of the year. (See Facebook Debuts Terragraph & ARIES to Extend Wireless.)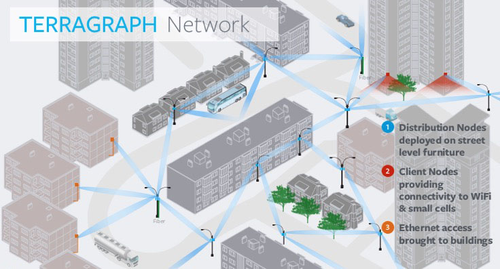 However, Facebook wasn't the only one testing the wireless waters over the last few days. Google Fiber Inc. told the Kansas City Star that it wants to begin testing new wireless technology in Kansas City, Mo. this year, using spectrum in the 3.5 GHz frequency band. The company applied for and received access to light poles and other fixtures from the city to deploy new antennas for the experiment. Google Fiber said that if the trial is successful, "the Kansas City metro area will be the first Gigabit region to benefit with new advanced wireless services."
In a further interview with Recode, Craig Barratt, who oversees Google Fiber, explained that the company is testing multiple types of high-speed wireless technologies. The goal is ultimately to reach areas that are too expensive to wire with fiber. And as reporter Mark Bergen pointed out, while Facebook doesn't want to operate broadband networks as part of its business, Alphabet Inc. , parent company of Google Fiber, does.
---
Learn more about network transformation at our upcoming Big Communications Event in Austin, TX, May 24-25. You can register now.
---
Meanwhile, in other Google Fiber news, the company has dropped the Internet service tier in Kansas City that offered speeds of 5 Mbit/s for free after a $300 installation charge. However, DSLReports has confirmed that the ISP will soon replace that offering with a 25 Mbit/s tier at a fee of $15 per month for certain low-income households. That new offering will supplement another plan by Google Fiber to deliver free gigabit service to select low-income housing developments.
Facebook used F8 not only to promote connectivity, but also new applications that will suck up a lot of the bandwidth it hopes to help create. Among them is Facebook's new Surround 360 platform that is designed to support the development of new augmented and virtual reality services. Virtual selfie, anyone? (See Why Gigabit Broadband? Facebook Answers.)
And finally, a company called Medical Realities gave consumers another reason to go virtual today. The organization streamed a surgical procedure live on Thursday with two 360-degree cameras capturing and outputting the action into a virtual reality app. That's a bloody lot of bandwidth.

— Mari Silbey, Senior Editor, Cable/Video, Light Reading