ATLANTA, Ga. -- Gigabit Cities Live 2015 -- One of the most important considerations for any network operator, utility or municipality considering the construction of a Gigabit broadband network is: Why does anyone need a Gigabit broadband connection?
There are a number of potential answers, one of the most common being that bandwidth-hungry (often video-based) applications will soon become widely available and will require broadband connections way in excess of 100 Mbit/s if they are to be used in homes and workplaces with multiple users and many connected devices.
A slightly different response came here from Phillip Nutsugah, VP, Broadband Access, Product Development & Management, at Cox Communications Inc. . During a keynote presentation Thursday morning he said that the question we should be asking is: What could we do with a Gigabit broadband connection?
Cox obviously would like people to think this way -- it is, after all, offering a service called Gigablast. (See Cox Goes Gaga Over Gigabit.)
But as Nutsugah noted, every past innovation in Internet access and bandwidth has enabled a new generation of applications, the latest being online gaming, streaming media, social media and the development of smart devices. He suggested that the introduction of 4K video services could soon see a household of four potentially using aggregate bandwidth of up to 130 Mbit/s at any one time.
But what will the next generation of bandwidth-hungry apps comprise?
---
The rollout of Gigabit broadband access networks is spreading. Find out what's happening where in our dedicated Gigabit Cities content channel here on Light Reading.
---
Real-time virtual reality, for one. Here at Gigabit Cities Live in Atlanta, I tried out a few applications at the Orange GigaStudio booth, where a team from Orange Silicon Valley -- Antonin Lapiche, technology analyst, and David Martin, senior business analyst -- were showing off some of the applications that have been developed using the facilities and resources they offer to developers. (Find out more about Orange GigaStudio's mission by reading Orange Fosters Gigabit App Development.)
The virtual reality (VR) demonstrations, using technology developed by JauntVR and MinVR, are quite staggering and soon to become the lynchpins of commercial offerings, it seems. At least one 360-degree camera manufacturer is preparing to launch a product this year that incorporates a virtual reality application, notes Martin. Of course that is just one part of the equation: As with anything new, it won't come cheap and the application only comes to life when there is someone wearing a VR headset at the other end of a very high bandwidth connection that, importantly, offers very low latency.
It's the low latency offered by fiber broadband that is key to these applications. Lapiche says that while an individual VR stream (4K video) shouldn't command any more than 12-16 Mbit/s, only fiber can deliver the QoS and sub 60-millisecond latency needed for successful VR apps.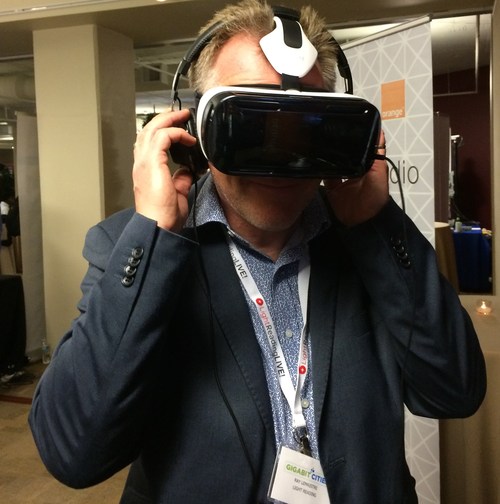 Then there was the real-time, multi-location shared hi-definition video experience that enables multiple people to watch the exact same video stream at the same time in multiple locations – if one person in the group pauses the stream to share some thoughts, then it instantly pauses for everyone.
And there were more enterprise applications, healthcare tools and so on. You get the picture. They key to enabling these apps is to have end-to-end fiber.
So what does that mean for the Gigabit revolution? It means that the developers are well on their way to developing the kind of apps that, in multi-user homes, multi-dwelling units and businesses, are soon going to be eating up hundreds of megabits per second and demanding very low latencies. That's a real incentive for network operators to build fiber broadband networks, maybe with a view to offering increasing speed tiers as the years go and demand for ever greater speeds increases (and let's not forget that home gateways and user devices need to be able to handle higher speeds too).
For me, this means a "Gigabit City" is one that has the fiber assets, the business plan and the local support from businesses and local government to be able to offer those widespread Gigabit broadband services as soon as the market demands it. Plan for the Gigabit future now because it'll be with us before we know it.
— Ray Le Maistre,

, Editor-in-Chief, Light Reading