In creating its first US Fiber Lit Buildings Leaderboard, Vertical Systems Group ran into an unexpected problem: The telecom industry players who provide fiber connections were buying each other at a pace that made achieving a final count more difficult than expected.
"It was like herding cats," says Erin Dunne, director of research services for Vertical Systems Group , a firm known for its Ethernet services leaderboards among other things. "One of the things we didn't intend to focus on was the amount of M&A that happens but as soon as we started pulling together the resource, things changed and changed and changed."
As noted in the public discussion of the new list, 18 of the 25 customers that are in the leaderboard or the next highest grouping, known as the challenge tier, have been involved in a merger or acquisition this year. And the current list will change soon, if the CenturyLink/Level 3 Communications merger goes through as planned this fall.
To no one's surprise, AT&T Inc. (NYSE: T) and Verizon Communications Inc. (NYSE: VZ) top the list; followed by Spectrum Enterprise -- the business unit of Charter Communications Inc. which was formed from the merger of three business units when Charter bought Time Warner Telecom and Brighthouse; and CenturyLink Inc. (NYSE: CTL). The other top players are also familiar names: Comcast Corp. (Nasdaq: CMCSA, CMCSK), Level 3 Communications Inc. (NYSE: LVLT), Cox Communications Inc. , Lightower Fiber Networks , Zayo Group Inc. (NYSE: ZAYO), Altice and Frontier Communications Corp. (NYSE: FTR).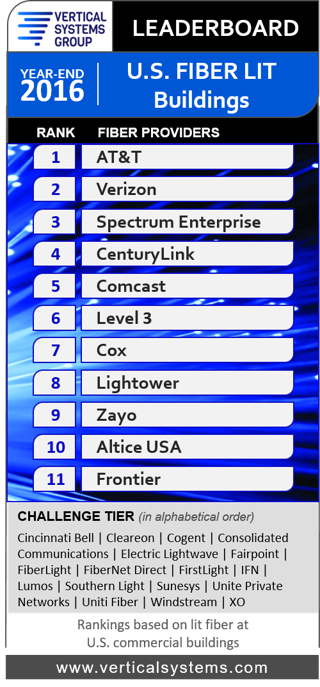 VSG doesn't publicly release the number of buildings each company has lit, reserving that for its paying customers. Nor does it rank in order the next grouping, which includes some less familiar names.
---
Want to know more about carrier SDN strategies? Check out our dedicated SDN content channel here on Light Reading.
---
The reason for counting fiber-lit buildings is their growing importance on a number of fronts, not the least of which is the ability to deliver flexible services on demand, via a software-defined network, over the best possible source of bandwidth, Dunne notes. The combination of fiber-lit buildings and an SDN architecture enable the future services that businesses will require.
"If you have a building that is lit and the requirement to turn up a customer is now orchestration versus construction, you can deliver that service very quickly and the time to revenue interval is much shorter," she notes. In addition, there is the flexibility of letting customers turn bandwidth up and down, via portals, without involving physical logistics -- something that isn't possible on a copper-based network.
The other drivers are the future services, including 5G and the Internet of Things, that will require small cells, among other things. A building with a handful of businesses might not be attractive as a fiber-lit site but if a small cell is needed on that building, the equation changes, says Dunne.
The industry's long-held belief that the first network operator to light a building gets the business it contains is still largely true, Dunne adds, but there is growing overlap as multiple operators light buildings. One reason for that is the demand for diversity -- businesses want their critical connections to the cloud to operate completely independently -- but there are also a lot of wholesale services being sold over the fiber.
— Carol Wilson, Editor-at-Large, Light Reading