Telecom Italia is aiming to return to earnings growth in 2017 by investing €10 billion (US$15.4 billion) in Italy during the next three years, an increase of €1 billion ($1.5 billion) on spending earmarked in its 2014 to 2016 plan.
Nearly €3 billion ($4.6 billion) is to go on the rollout of fiber broadband networks, some €1.1 billion ($1.7 billion) more than in the previous plan, as the Italian incumbent battles to reinvigorate its beleaguered domestic operation.
During a presentation in London earlier today, Telecom Italia (TIM) CEO Marco Patuano said the goal was to cover 75% of Italy's population with fiber by the end of 2017, up from just 29% today. About €500 million ($769 million) of that investment will go specifically towards the deployment of FTTH networks providing services of up to 1Gbit/s, with the rest supporting the rollout of FTTC infrastructure.
---
The rollout of Gigabit broadband access networks is spreading. Find out what's happening where in our dedicated Gigabit Cities content channel here on Light Reading.
---
Telecom Italia believes the extra investment will allow it to capture 1 million more fiber customers by 2017 than under previous spending plans.
The operator will also invest another €900 million ($1.4 billion) -- the same as planned over the 2014 to 2016 period -- in extending 4G coverage to 95% of the population, up from 80% at the end of January.
An additional €4 billion ($6.2 billion) is to go into Brazil, where the TIM Brasil subsidiary operates the country's second-biggest mobile network. The goal there is to extend 4G coverage to more than 15,000 sites and 3G coverage to some 14,000 sites by 2017.
Speaking to analysts at the London presentation, Patuano acknowledged that questions would be raised about the high level of capital expenditure planned over the next few years, but emphasized the need for investments if Telecom Italia is to stabilize earnings in 2016 and start growing in 2017.
Telecom Italia has taken a battering from price-based competition in Italy's mobile market and is under growing pressure in the broadband sector from rivals including Vodafone Italy , which is also investing in fiber networks.
The announcement of a new three-year plan came on the same day Telecom Italia flagged further declines in EBITDA and revenues for the 2014 financial year. Preliminary results showed a 7.9% year-on-year drop in EBITDA, to €8.8 billion ($13.5 billion), and a 7.8% fall in revenues, to €21.6 billion ($33.2 billion).
Nevertheless, Telecom Italia executives have taken heart from improvements in the latter half of the year -- with the rate of decline slowing compared with earlier quarters -- expressing confidence that investments to date and a shift away from price-based competition are starting to pay off.
Earlier this week, the operator unveiled plans to lump all of its products and services under the TIM brand, previously used to support mobile activities, prompting speculation about its quad-play motives. It also made a series of changes to its fixed-line prices, partly with the aim of luring customers to its broadband offers. (See Telecom Italia Rejigs Services in Recovery Bid.)
Clearly, there is plenty of scope for upselling higher-speed services to existing customers. As few as 231,000 of Telecom Italia's 7 million broadband customers were using fiber products at the end of 2014, while only 1.3 million of its 30 million mobile customers were on 4G.
Even so, the latest investment plans could add to the financial pressure on Telecom Italia, which remains determined to reduce net debt to about 2.5 times EBITDA in 2017 from a current ratio of 3.
The operator has not provided guidance on free cash flow expectations, but its presentation indicated this would drop sharply in 2015, from about €3.8 billion ($5.9 billion) last year, and not exceed the 2014 figure until 2017, as the chart below shows.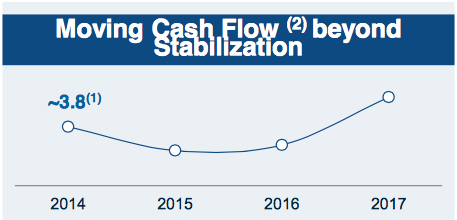 While a possible merger between Italian mobile players 3 Italia and Wind Telecomunicazioni SpA -- which were reported to be in talks earlier this week -- might relieve some pricing pressure on Telecom Italia, the availability of higher-speed services has not led to dramatic growth in customer spending elsewhere. (See Hutchison's Wind of Change and Eurobites: Telecom Italia Mulls European M&A.)
Investors did not appear to be encouraged by the new plan: Telecom Italia's share price had fallen by around 1% in Milan during trading this morning.
— Iain Morris,

, News Editor, Light Reading