Like unwelcome guests, copper-fortifying technologies such as vectoring and G.fast have gatecrashed the fiber-to-the-home/building (FTTH/B) party, swapped the music for something more downbeat and then headed back to their ageing but still sprightly copper-line friends. (See Copper Soldiers On: Broadband Special Report Part 1.)
By giving operators the ability to squeeze more life out of those old copper lines, new and emerging standards have undoubtedly robbed their FTTH/B brethren of some momentum. Yet service providers in a number of markets, particularly China, are clearly investing in FTTH/B, or looking to do so -- either conscious that copper will eventually become redundant as a fixed broadband access medium or less constrained by regulation and economics.
The chart below, courtesy of specialist research house Point Topic Ltd. , shows that the number of broadband connections running over fiber to the home, building or premises (including those that then connect to an in-building LAN) globally has grown rapidly during the past few years and more than doubled between the second quarter of 2013 and the same period in 2015.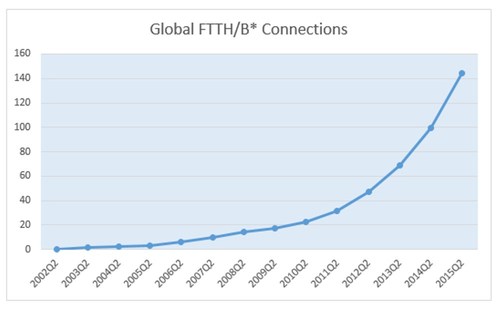 The factors that need to be considered by network operators as they consider whether to invest in fiber broadband connections are legion, with competition, regulation, business case, technology and geography most often at the top of the list. (See Gigabit Broadband: What's the Business Case? and Top Tips for FTTH Operators.)
This Prime Reading report is concerned with the current FTTH/B technology options available to network operators.
As when upgrading copper, the decision about which FTTH/B technology to pursue is far from straightforward. While gigabit passive optical network (GPON) deployments have largely crowded out their older broadband passive optical network (BPON) rivals -- and Ethernet passive optical network (EPON) technology has become de facto in some Asian markets -- all players face difficult choices about what to do next. And point-to-multipoint architectures are not to everyone's taste: France's Iliad (Euronext: ILD) is a leading European example of a network operator that has preferred the flavor of Ethernet point-to-point (EP2P).
Others, too, have found that active optical network (AON) infrastructure, which includes active electronics between the central office and the customer premises, suits their needs better. Depending on the topography, an AON network might be easier to manage and more cost-effective to run.
Of course, much of the chatter about the advantages of one standard over another emanates from the vendors backing specific technologies. Alcatel-Lucent (NYSE: ALU), for instance, has been one of the champions of GPON, while Cisco Systems Inc. (Nasdaq: CSCO) has previously talked up the attractions of AON.
Other suppliers of FTTH/B network technologies include the Chinese equipment-making giants that are Huawei Technologies Co. Ltd. and ZTE Corp. (Shenzhen: 000063; Hong Kong: 0763) as well as a variety of more specialist players, including Adtran Inc. (Nasdaq: ADTN), Allied Telesis Inc. , Calix Inc. (NYSE: CALX), DASAN Zhone Solutions Inc. , FiberHome Technologies Group , Iskratel d.o.o. and Zhone Technologies Inc. (Nasdaq: ZHNE).
So what are the main FTTH/B technologies these suppliers have to offer? We have considered the BPON, EPON and GPON standards together, pointing out their similarities and differences, before turning our attention to EP2P and active Ethernet (that's AON, basically). Then it's on to some analysis of the emerging higher-speed options out there: XG-PON1, NG-PON2 and XGS-PON.
Here's a snapshot of the technologies before we dive deeper.
Table 1: The Different Flavors of FTTH/B

Technology name
Shared or dedicated capacity
Downstream speed potential
Upstream speed potential
Details
BPON
Shared (1:32)
622 Mbit/s
155 Mbit/s
Based on the ATM protocol, BPON has largely been superseded by GPON technology
EPON
Shared (1:32)
1.25 Gbit/s
1.25 Gbit/s
As its name implies, EPON is based on the Ethernet protocol and has proven popular in a number of Asian markets
GPON
Shared (1: 128)
2.48 Gbit/s
1.24 Gbit/s
Now the most widely deployed PON technology, GPON works with the ATM, Ethernet and TDM protocols and supports much higher downstream rates than rival first-generation PON technologies
EP2P
Dedicated
Multi-gigabit
Multi-gigabit
A point-to-point PON variant, EP2P offers much higher-speed services than point-to-multipoint rivals but is costlier to roll out
Active Ethernet
Dedicated
Multi-gigabit
Multi-gigabit
Uses active electronics between the central office and the customer premises, giving operators more service flexibility
XG-PON1
Shared (1:256)
10 Gbit/s
2.5 Gbit/s
Designed as an upgrade for GPON operators, the standard has fallen by the wayside because of upstream limitations
NG-PON2
Shared (1:256)
40 Gbit/s (4 x 10 Gbit/s wavelengths)
10 Gbit/s
Has overtaken XG-PON1 as a GPON upgrade option but is unlikely to see widespread deployment until component costs fall
XGS-PON
Shared (1:256)
10 Gbit/s*
10 Gbit/s*
Currently being reviewed by the ITU, XGS-PON is being promoted as cheaper than NG-PON2 and speedier than XG-PON1
* According to Adtran. Source: Light Reading, vendors.
Next page: BPON/EPON/GPON