UK fixed-line incumbent BT has revealed plans to roll out a nationwide ultra-fast broadband service using the bandwidth-boosting G.fast standard.
The announcement, which accompanied the publication of results for the October-to-December quarter, will give a huge spur to the G.fast industry and may convince other big operators to throw their weight behind the emerging technology. (See BT Plots G.fast Rollout, Mobile Launch.)
G.fast essentially works by supercharging the final copper connections into customer premises, allowing operators to provide fiber-like connection speeds without having to make costly investments in fiber-to-the-home technology. To be truly effective, however, G.fast needs to be used after fiber has been extended as far as the distribution points that reside near buildings. (See G.fast: The Dawn of Gigabit Copper?.)
At least, that has been the conventional view. Earlier today, BT Group plc (NYSE: BT; London: BTA) CEO Gavin Patterson told analysts that -- following technology improvements during the past six months -- BT would be able to use G.fast effectively over much longer copper loops than it had originally thought possible.
"There has been a breakthrough on G.fast in the last quarter and we now see a way to deliver it from street cabinets rather than just distribution points," he said. "That means we can build on existing investments."
Besides prompting other broadband operators to re-examine the use of G.fast, this clearly has major implications for G.fast in the UK. BT manages as many as 4 million distribution points up and down the country, compared with just 90,000 cabinets. Moreover, its cabinets are already kitted out with the electronics and other equipment needed for "superfast" broadband.
By using G.fast in conjunction with both fiber-to-the-cabinet and fiber-to-the-distribution-point technologies, the operator believes it will be able to provide 500Mbit/s services to most UK homes over the next 10 years. But it is also confident it will be able to support services of up to 1 Gbit/s for more demanding customers.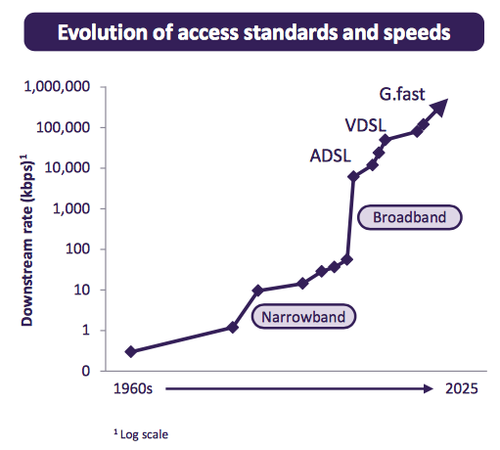 This marks a considerable improvement on the 800 Mbit/s BT managed to achieve over loop lengths of just 19 meters during G.fast tests at its Adastral Park research facility last year. (See BT Takes a Step Closer to G.fast.)
While many of the specifics have yet to be ironed out, BT plans to begin G.fast trials this summer covering about 4,000 premises in the towns of Huntingdon (Cambridgeshire) and Gosforth (Newcastle). Should those pilots prove successful, it will start work on a nationwide rollout next year. By 2020, it aims to be providing speeds of a few hundred megabits per second to "millions of homes and businesses."
That constitutes a major opportunity for G.fast vendors Adtran Inc. (Nasdaq: ADTN), Alcatel-Lucent (NYSE: ALU) and Huawei Technologies Co. Ltd. , all of which have been involved in BT's G.fast tests.
---
The rollout of gigabit broadband access networks is spreading. Find out what's happening where in our dedicated Gigabit Cities content channel here on Light Reading.
---
Patterson is also insisting that BT will only commit to G.fast if the "appropriate regulatory environment is in place". UK regulators are keeping a close eye on whether BT is "squeezing" its broadband competitors by setting its wholesale prices too high or its retail charges too low. Having complained about growing regulatory scrutiny of its pricing activities, BT seems to be telling authorities to back off or give up hoping it will roll out ultra-fast services. (See Eurobites: BT Faces New Rules on Access Charges.)
Even so, a G.fast deployment based largely on FTTC would not require eye-watering expenditure, according to BT. Although Patterson would not provide any detailed guidance on how much a G.fast rollout would cost, he reckons it could be managed within BT's "existing capex envelope" (the operator spent £1.65 billion -- $2.5 billion -- in capital expenditure between April and December -- 7% less than in the same period of 2013).
"G.fast will coexist with VDSL2+ for many years," said Clive Selley, BT's chief information officer, in explaining some of the operator's cost rationale. "The strategy is about reusing existing assets and street furniture. Copper that runs between cabinets and homes will continue to be used for VDSL2+ and G.fast."
BT flagged impressive growth in its fiber broadband business in the October-to-December quarter, adding 209,000 retail customers to give it more 2.7 million in total. That means more than 35% of the operator's broadband customers are now making use of fiber services.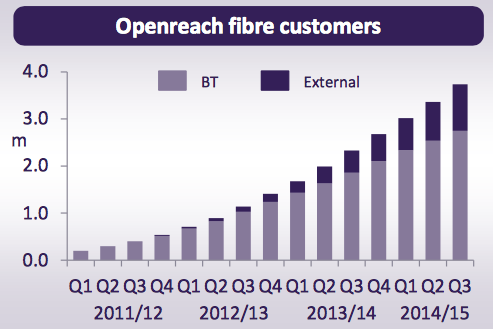 Nevertheless, the operator faces growing competitive challenges in the superfast broadband market and its ability to influence regulatory decisions may be diminishing.
Its top-tier broadband service is only about half as fast as a rival offering from cable operator Virgin Media Inc. (Nasdaq: VMED), while a joint venture involving Sky , TalkTalk and CityFibre plans to launch 1Gbit/s services later this year. Although that service will be limited to part of the city of York, TalkTalk has said it could ultimately be extended to as many as 10 million UK homes. (See CityFibre Aims for BT's Wholesale Business and TalkTalk's Small Fiber Beginnings.)
Besides preparing for the future launch of ultra-fast broadband services, BT is also planning a return to the UK's mobile market through a £12.5 billion takeover of mobile operator EE , with which it is currently holding "exclusive" talks. (See BT Offers $19.5B to Buy EE, Why BT + EE Makes More Sense and Convergence: All the Rage in 2015.)
"We're very close to the end of the due diligence process and subject to that we'll make an announcement shortly," said Patterson.
BT's move would create a giant in the UK's fixed and mobile markets and seemed to galvanize Hong Kong's Hutchison Whampoa Ltd. (Hong Kong: 0013; Pink Sheets: HUWHY), which already owns EE rival Three UK , to make its own £9.25 billion ($13.9 billion) offer for Telefónica UK Ltd. , another mobile network operator, earlier this month. By merging Telefónica UK (known as O2) with 3, Hutchison aims to create the country's biggest mobile operator by customer numbers. (See Hutchison Offers $13.9B for UK's O2 and Hutchison in Talks to Buy UK's O2 – Report.)
Patterson, however, is skeptical that such a deal will secure the approval of UK competition authorities. "It will reduce the mobile market from four players to three and that will be challenging to justify," he said.
— Iain Morris,

, News Editor, Light Reading