HUNTSVILLE, Ala. -- Adtran Connect -- Competition often drives gigabit deployments -- just think what Google Fiber did by just threatening to build fiber-to-the-home in multiple cities. But an industry consultant speaking here this week warned telcos -- particularly smaller companies -- not to make knee-jerk responses to competitors' announced gigabit deployment plans.
William Markey, president of RelevantC Business Group (RCBG), offered the perspective he gained by interviewing dozens of telco operators and looking in depth at their business plans, as part of a "copper versus fiber modeling project" Adtran Inc. (Nasdaq: ADTN) hired him to do. In a rapid-fire presentation, Markey went through his independent analysis of the potential cost differentials between copper access technologies and passive optical network deployments that take fiber to the premises (FTTP).
The idea was to look in depth at all the considerations that influence both capex and opex for the different access options, he said, and that means going beyond upfront cost and competition. Some of what Markey presented was common sense -- the type of market and demand, the topology and density of the area being served, the current status of the outside plant, all influence access technology choices.
But apparently common sense goes out the window when a telco executive is driving to work and sees a billboard advertising his competitor's new gigabit service offering.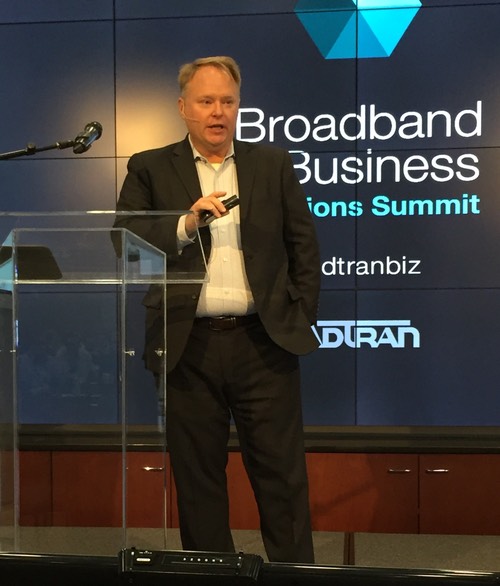 "Competitive presence seems to be a rational and an irrational driver," Markey commented. "It is easy to get spooked by a headline or billboard, but important to understand how real that, is how durable that is."
It is not atypical for competitors including cable MSOs to launch a splashy marketing campaign touting gigabit services, but those services may not blanket a market and they may be launched with teaser rates that give gigabit services an appeal that is not durable, especially if customers don't really need gigabit speeds.
"Not everything Gig is as it appears," Markey said. "There is a lot of FUD [fear, uncertainty and doubt] that is intended to impede your decision making. Don't get fooled."
Telcos would be wiser to first explore extending the life of their copper networks, using Gfast and super-vectoring, even as they work to push fiber deeper, he said. And they need to figure out what's right for their customers -- who may be thrilled to get 25Mbit/s speeds that are reliable and affordable.
"The halo effect of gigabit is real -- it's exciting what happens and what transforms when speed is no longer the issue," Markey commented. "That potential is real and available to all of us. But even the Googles of the world have budgets to justify."
Markey also warned that competition is a more complex thing today than ever before. In addition to competing with other network operators, today's telcos have to compete with Facebook/Google and OTT players, including the most recent entrant, Walt Disney Co. (NYSE: DIS). (See Disney Joins OTT Bandwagon.)
"Disney cut the pay-TV cord -- ESPN was one of the reasons we thought people would not cut the cord," he noted. "Now Disney will have a parallel platform to give them more leverage, which means content gets more expensive."
---
Want to know more about gigabit strategies? Check out our dedicated gigabit content channel here on Light Reading.
---
Gaming consoles will compete with fees for CPE as well, and new platforms such as Amazon.com Inc. (Nasdaq: AMZN)'s Echo, with its Alexa artificial intelligence interface, become the doorway to new services from Amazon direct to consumers.
Even the billionaires racing to put more satellites into space represent a potential threat, Markey noted.
"We are going to see lots of new satellites that are faster, cheaper and funner to launch," he said. "That's why you are seeing billionaires coming in as disrupters."
This new breed of low earth orbit satellites, including "cube sats" that are quite small and numerous, will be used to deliver services in new ways, including to rural areas where bandwidth is hard to come by, he said.
Markey urged the telcos to "be more like Amazon" and control their costs by using white-label products, avoiding brands and using home grown talent wherever possible. "Make what you choose to pay for matter more -- they have to have a path to virtualization, but [vendors] should always be measured against home grown and open source."
— Carol Wilson, Editor-at-Large, Light Reading