Getting High on High-Def
Comcast Corp.
(Nasdaq: CMCSA, CMCSK) has quietly launched the Web component of its high-definition television marketing campaign… and has once again enlisted talking animals to spread the message.
While the MSO's cable modem campaign has
The Slowskys
, a family of turtles who creep along using DSL service, Comcast's new
Hi-Def High
tilt stars a parrot with assistance from other colorful creatures, including a bright green frog, a Monarch butterfly, a Blue Tang fish, and a purple octopus.
Upon entering the site, users are visited by the parrot, who says, "I'm going to walk you through the process of picking an HD provider." Sure, as long as you're picking Comcast.
Comcast's Web-based campaign also follows in the footsteps of
HD Clear & Simple
, a site put up recently by
Time Warner Cable Inc.
(NYSE: TWC) and
Cisco Systems Inc.
(Nasdaq: CSCO).
Comcast's site features several interactive applications designed to push the Comcast message on things such as HD content, picture quality, and ease of installation. Not surprisingly, given the heated HD-induced
legal battles
between Comcast and
DirecTV Group Inc.
(NYSE: DTV), satellite TV providers are the campaign's biggest target.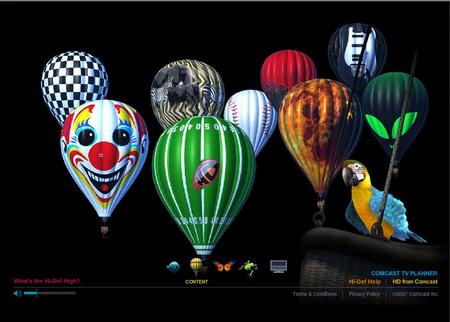 There are also a few games and screensavers. Among them, a frog lashes its sticky tongue in an attempt to snatch satellite dishes from homes as it hops through a neighborhood. In another, an octopus spells out the cost benefits of the Comcast HD service while conducting a version of the shell game using playing cards.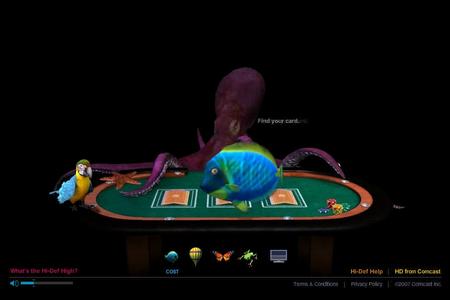 The site also shows off Comcast's cross-channel spots of people getting the "High-Def High."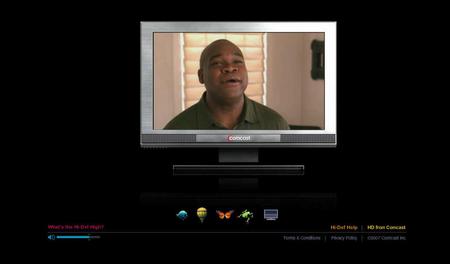 "You see an HD picture for the first time. You stare and stare," the ad's narrator says as the subject of the ad nearly reaches ecstasy drinking in the images of the big screen. "That's what happens when you see a picture five times more detailed than on regular TV."
I do remember the moment I nearly needed a napkin to mop up the drool as I watched Super Bowl XXXVIII unfold in HD back in 2004, so I can relate to a point. Still, time will tell if these ads have the same pop-culturish, lasting impact of some drug-related
PSAs of yore
.
— Jeff Baumgartner, Site Editor,
Cable Digital News