Galicia seeks 'carbon-neutral' data center amid sector's rising energy use
Impulsa Galicia and Ingenostrum have teamed up with the goal of building a €400 million (US$426.5 million) carbon-neutral data center in Spain. According to Impulsa Galicia – a public-private initiative backed by the Galicia region's decision-making body – the center could accommodate data from most Galician businesses. Although the companies have only agreed to conduct a feasibility study, the project serves as a reminder of the growing need to increase data center capacity while slashing emissions.
The 15-megawatt (MW) center would follow a larger, 70MW one in Cáceres, in the Extremadura region, also planned by Ingenostrum. While that project too is dubbed carbon-neutral, there is no mention of batteries or other storage technology, begging questions about what carbon-neutral electricity will power the data center when the sun isn't shining, which happens even in Spain.
When it comes to the green credentials of data centers – or pretty much anything else – the devil is always in the details. Data centers and data transmission each account for between 1% and 1.5% of global electricity consumption, according to the International Energy Agency (IEA), which sums up the sector's progress towards the goal of reaching net zero by 2050 as "more efforts needed."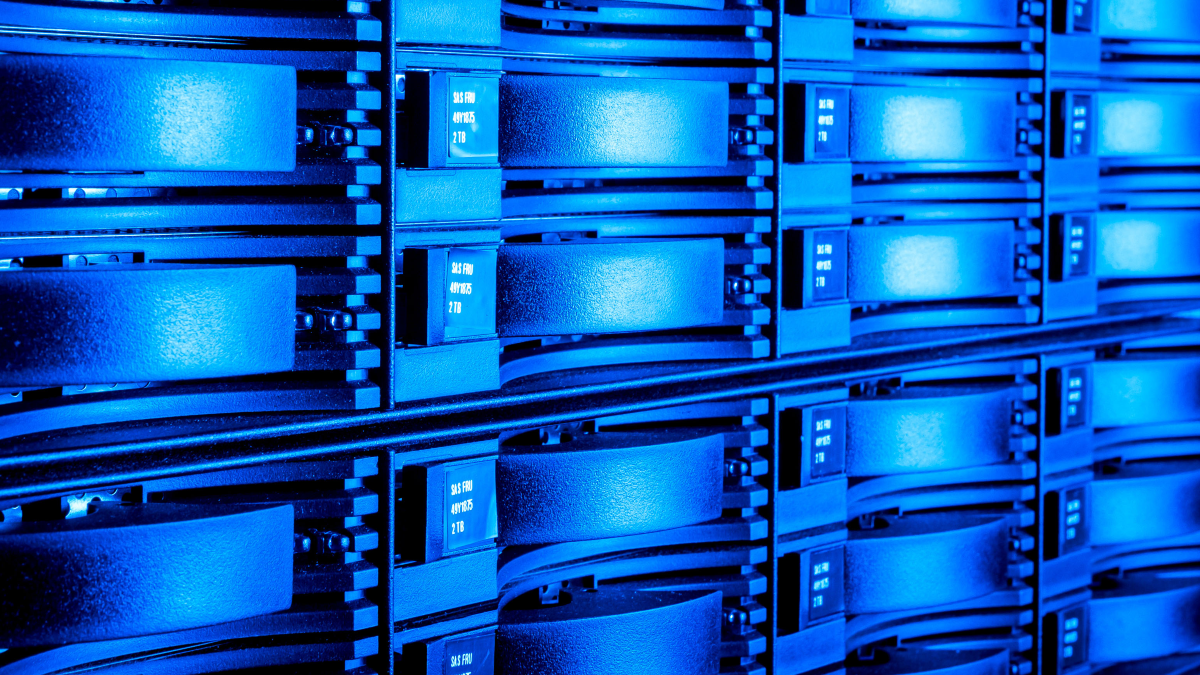 While demand and energy use are expected to grow in the coming years, the industry needs to significantly reduce its emissions if it is to align with the global goal of reaching net zero by 2050. According to IEA, emissions need to be halved by 2030. As a result, pressure from both government and customers is growing to make data centers greener.
In the data center operators' defense, they have managed to significantly improve energy efficiency. Since 2010, emissions have increased only modestly, despite demand skyrocketing as global Internet traffic grew 20-fold. The largest data center operators have also started to contract renewable energy for their facilities, with Amazon, Microsoft, Meta and Google becoming the four largest buyers of corporate renewable power purchase agreements. But that still does not erase their growing energy consumption and emissions footprint.
The unbearable lightness of being green
For one, the actual reporting often leaves a lot to be desired. Amazon, which has adopted a goal of reaching net zero by 2040, has been criticized for insufficient reporting. Data for 2021 suggests that Amazon used 30.9 terawatt hours (TWh) of electricity across its operations, of which 85% was renewable, without specifying how much of this is specific to its data servers. Although it has recorded a decrease in overall emissions arising from energy use, the company only uses the market-based metric, which ignores the make-up of the grid in favor of only looking at the total energy contracted by a company.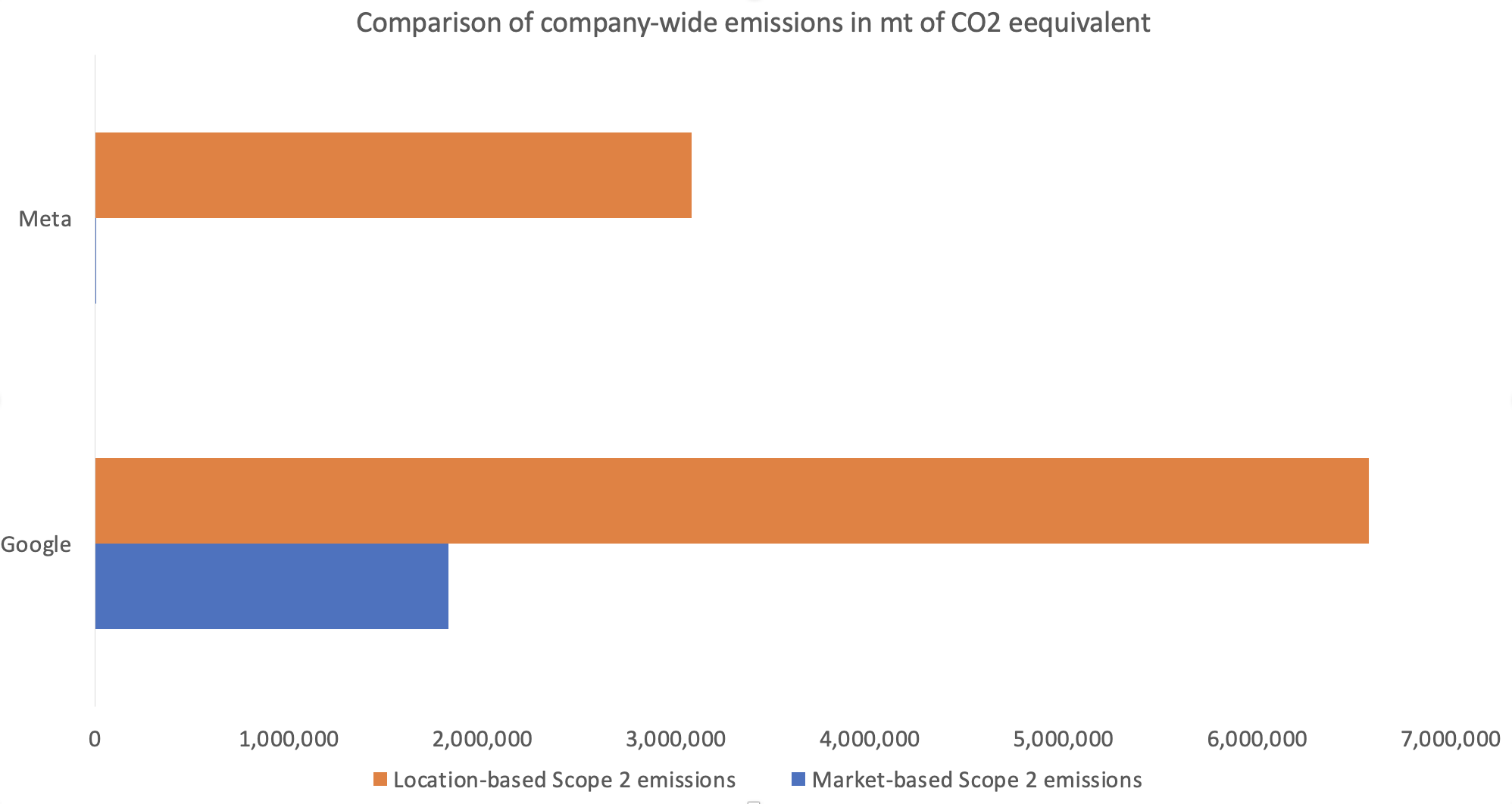 Google also only reports its energy use and emissions for the whole company, with 18.3 TWh of electricity consumed in 2021, up from 15.1 TWh a year prior. It has, however, set a more stringent target for its data centers, aiming to power them solely with renewable energy in real time by 2030. In 2021, its data centers were using purely renewable energy only 66% of the time. This is calculated by using both Google's contracted power supplies and the energy coming from the grid.
The lack of a real-time renewable energy supply may have contributed to the discrepancy between Google's market-based and location-based Scope 2 emissions, meaning those arising from its energy use. For 2021, the company reported 1,823,132 metric tonnes (mt) of CO2 equivalent under the market-based approach, which accepts any contracts for renewable energy or its clean attributes, such as renewable energy credits. Under the stricter location-based methodology, which calculates the emissions from the grid that supplies Google, its emissions stood at 6,576,239 mt.
Facebook's parent company Meta also reports a gap between market-based and location-based emissions. Its sustainability report includes specific data for data center emissions, which stood at 2,000 mt of CO2 equivalent in 2021 under the market-based approach but reached 2,989,000 mt under the location-based metric, having grown from 2,650,000 mt the year prior. In the same year, its data centers consumed 9.1 TWh of electricity.
Table 1: Global trends in digital and energy indicators, 2015-2021

2015
2021
Change
Internet users
3 billion
4.9 billion
60%
Internet traffic
0.6 ZB
3.4 ZB
440%
Data centre workloads
180 million
650 million
260%
Data centre energy use
200 TWh
220-320 TWh
10% to 60%
Crypto mining energy use
4 TWh
100-140 TWh
2 300 to 3 300%
(Source: data compiled by IEA)
It is difficult to argue that a company does not contribute to CO2 emissions if it increases demand on the grid as a whole, which is not 100% renewable. A smaller, more localized data center like the one proposed in Galicia may seem to be an attractive alternative to hyperscalers – the large data centers frequently built by Big Tech. But it has been argued that these facilities may not be able to reach the same energy efficiencies as their more centralized counterparts.
Clearly, the growing energy demand of data centers is the result of a global push to digitalize almost all sectors of the economy, and not some unilateral action on the companies' part. That should not, however, free companies from the responsibility to pursue emission-reduction targets – after all, Big Tech companies continue to rake in multi-billion-dollar profits. We may, however, need to ask whether we should not be more sparing in using their services.
Related posts:
— Tereza Krásová, Associate Editor, Light Reading
UPCOMING LIVE EVENTS
June 6-8, 2023, Digital Symposium
June 21, 2023, Digital Symposium
December 6-7, 2023, New York City
All Upcoming Live Events
PARTNER PERSPECTIVES
- content from our sponsors