Last week, Freescale Semiconductor Inc. , the "global leader in embedded processing" (whatever that means), announced plans "to sharpen the company's strategic focus on growth markets and its key leadership positions." In so doing, it plans to "explore strategic options for its cellular handset chipset products business and intends to complete a sale, joint venture agreement, or other transformation in the coming months."

Good luck, guys, because you may actually have to pay someone to take it off your hands.

Just how Freescale wound up at this juncture is tale of missteps, miscues, and mismanagement. But it all goes back to Motorola Inc. (NYSE: MOT), like so many other sad tales.

Long, long ago in a land far, far away Motorola was actually primarily a semiconductor company (hard to believe). Over the course of decades, as it morphed into cellular equipment supplier, its semiconductor business went through a transformation that is difficult for anyone to explain. In a booming business (handsets) with a captive customer (Motorola) its semiconductor operation couldn't find a way to make money on a consistent basis, and when it did, it was feeble at best. Consequently, in early 2004, Motorola separated its semiconductor operations as Freescale, took it public in mid-year, and spun its shares off to stockholders in December of that same year.

At the time, Motorola represented about 28 percent of Freescale's total revenue and about 70 percent of the company's Wireless & Mobile Solutions (WMS). This group was the second largest at the time and represented a little more than one-quarter of total revenue. What was interesting at the time was the "commitment" (or lack thereof) from Motorola. Motorola was only willing to sign on for purchase commitments through the year 2006, which certainly didn't say much for its confidence in the offspring.

During 2004 and 2005, Freescale did little to generate much confidence either. The company generated approximately $3.5 billion in revenue from its WMS operations and managed to lose $18 million at the operating line. For comparison purposes, consider Qualcomm Inc. (Nasdaq: QCOM) during this same period: Revenue from its chipset business was $6.7 billion and earnings from operations were $2.1 billion or a 31 percent margin. I argued at the time that, given Freescale's favorable operating margins in its other lines of business (15 to 20 percent), the weight it was bearing was likely due to the onerous pricing required to retain the Motorola handset business.

Having one dominant customer, as Freescale had with Motorola, makes attracting new customers quite difficult. The first hurdle is obvious: Freescale is going to direct most of its attention to its biggest customer. The second is less obvious but just as important: Motorola can influence the direction of Freescale's development activities to what is best for it – and that may not be best for the merchant market in general. Owe me a little, I own you; owe me a lot, you own me!

Motorola extended its purchase agreement with Freescale in July 2005 with the intent of developing a "new 3G platform" for the company. When you consider the biggest problem area for Motorola over the last 18 months has been 3G, it speaks volumes about the new 3G platform. Motorola's public announcement that the company is working with Qualcomm and Texas Instruments Inc. (NYSE: TXN) was just another nail in the Freescale coffin.

In late 2006, in what I can only describe as a moment of temporary insanity, four private equity firms (The Blackstone Group , The Carlyle Group LLC , Permira , and Texas Pacific Group) joined together to buy Freescale at the ridiculous sum of $17.6 billion. That's a whopping 2.8 times trailing revenue for a semiconductor company that was struggling at best.

Since the closure of the deal in 4Q06, the newly private Freescale has added about $9.4 billion in debt and turned in some stunning performances as you can see in the graph below. Before you get all happy-faced about the trend-line from 2Q07 to 2Q08, it's important to note that 1H08 revenue growth is exactly zero for the high-growth operations Freescale intends to "sharpen its focus" upon. Unfortunately, Freescale no longer discloses the operating earnings of its new reporting segments or the percentage of business from Motorola so the condition of its new cellular business segment remains a mystery.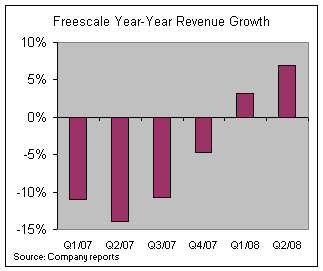 So now the brain trust at the Fantastic Four (the aforementioned private equity firms) have decided its time to jettison Freescale's cellular operations and focus on those high-growth businesses. Those, by the way, have managed to lose their No. 1 position in 8-bit microcontrollers to Microchip (MCHP) over the course of the last couple of years, but I digress.

Consider the attractive attributes a buyer might consider: The single largest customer of the operation is sprinting as quickly as possible to replace your silicon; and, in all likelihood, any other customers you have already made phone calls to Qualcomm, Texas Instruments, or others in an effort to do the same thing. There is nothing attractive about this business.

I know, the conventional wisdom will suggest that it will "join" the new wireless venture created by Ericsson Mobile Phone, ST Microelectronics and NXP (another questionable private equity buy-out). Why? That would be little more than one more leper joining the colony. Other than enabling a fourth for bridge, they would all still be sick with little to no prospects for a cure.

Faced with a declining revenue stream, the need to arrange a foundry agreement with Freescale for the short-term, requalification of existing parts, post the foundry deal, as well as attempt to sell its solutions into an increasingly competitive market, Freescale may well have to give this puppy away or just write it off.

Private equity firms have demonstrated with this deal that their understanding of the semiconductor market is limited at best. Overpaying for a large, "second tier" player that is struggling was a huge mistake, and now they will continue to pay the price.

— Bob Faulkner, Special to Unstrung. Freescale is one of the many technology and telecom companies that Bob Faulkner writes about weekly in The Telecom Connection.