The Future Is Foggy – HR Report
As nebulous as its name suggests, fog computing looks set to attract a lot of attention this year as one of several technologies that could support new business models and applications in the connectivity game.
For mobile operators, fog computing is unlikely to be a short-term revenue opportunity, according to a new study from Heavy Reading , the market-research arm of Light Reading. And while more progressive operators could emerge as important "enablers" of fog computing, it will be up to other players to take the lead in developing use cases, says Gabriel Brown, a senior analyst with Heavy Reading who co-authored the report.
In large part, it seems, that's because of the considerable uncertainty that surrounds fog computing -- which still evades any straightforward definition -- and its commercial proposition.
Many observers see parallels with the concept of edge computing, whereby IT resources are moved out of centralized facilities and deployed at basestations or basestation aggregation points, much closer to the end user. Proponents believe edge computing could help to reduce operating costs and create new service opportunities.
---
Want to know more about the Internet of Things? Check out our dedicated IoT content channel here on Light Reading.
---
Fog computing appears to go a step further, however. Instead of putting IT resources at an edge network facility, companies could introduce them into end-user equipment. While he does not use the fog computing expression, Peter Levine, a venture capitalist with Andreessen Horowitz, says this kind of move could support applications such as real-time image processing by car-mounted cameras. Indeed, it is easy to imagine fog computing playing a key role in the broader Internet of Things (IoT) market.
While many telcos may regard fog computing as a part of the IoT, some of the concept's chief supporters insist that it covers a multitude of deployment scenarios. "While MEC [mobile edge computing] is focused on the RAN [radio access network], fog includes access, edge and the devices themselves," said Steve Vandris, a board member for the OpenFog Consortium, during a conference in Germany last September. "It distributes computation across all these nodes." With a goal of creating an open fog computing architecture to support interoperability, the OpenFog Consortium counts ARM Ltd. , Cisco Systems Inc. (Nasdaq: CSCO), Dell, Intel Corp. (Nasdaq: INTC) and Microsoft Corp. (Nasdaq: MSFT) as founding members. (See Will ETSI Lose Its Edge as Fog Rolls In?)
Table 1: MEC Vs OpenFog, According to OpenFog

MEC
OpenFog
Focus on RAN [radio access network] cellular network access
Access node/network connection agnostic, fully supporting cellular, unlicensed radio, wireline and optical interconnects
Focus on the RAN edge, adds computing in a single layer of nodes in the RAN
Horizontal architecture for distributed computing, storage and networking services across cloud-to-thing continuum
Focus on mobile service providers, uses mobile carrier models
Physical and logical hierarchy of fog nodes with north-south, east-west and diagonal connectivity: covers edge but also access and things in IoT intermediate layers between edge and cloud
MEC focuses on moving applications into the RAN, which requires many of the functions the OpenFog RA [reference architecuture] provides (e.g., distributing software/apps to edge nodes, orchestrating resources to support applications, managing the lifecycle of the software/apps distributed to the edge, and securing these distributed systems)
Multi-tenant service models, virtualization, orchestration, management, uses enterprise and web-scale models
MEC can right-size the OpenFog RA to work inside RANs and for its newly expanded multi-access scope to support the fog-related functions MEC requires
OpenFog is an SIG [special interest group] that partners with multiple SDOs [standards development organizations] to cover fog computing standardization needs across multiple disciplines, can leverage MEC technologies and APIs [application programming interfaces]
Source: OpenFog.
As grandiose as this sounds, it may do little to entice mobile operators to be answerable to returns-hungry investors. What's more, if intelligence moves from the network into devices, then players other than telcos -- including manufacturers and software developers -- may stand to be the main beneficiaries of fog computing.
Operators' wariness about the relatively new concept of fog computing is perhaps unsurprising given the lack of major commitments to edge computing, despite years of publicity. Rummaging through old magazine clippings this week, Light Reading's own Carol Wilson came across stories from the early 90s about "distributing intelligence to the edge of the network." Yet most respondents to a recent Light Reading survey were unconvinced that edge computing is as strategically important as other next-generation technologies. (See The More Things Change..., Edge Computing Not Yet a Telco Priority – Poll and graphic below.)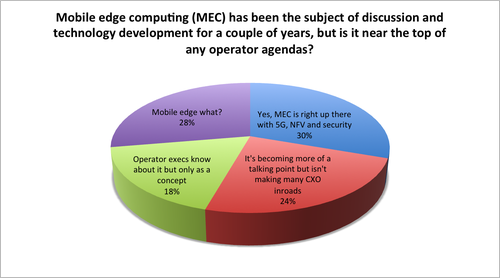 This does not mean operators are going to be oblivious to what happens in fog computing, though. "The positive spin is that there will be a lot of innovation at the edge over the next ten years," says Brown. "Operators will be supporting that development, providing connectivity and hosting and being enablers, but it's not going to be their role to come up with new revenue models."
Instead, network architecture will evolve accordingly as emerging technologies, including 5G, force telcos to adapt to new service requirements. "Over the longer term, we'll see progressive developments in network architecture that will mesh nicely with some of the emerging edge applications," says Brown.
Ultimately, everything is going to get a lot foggier.
— Iain Morris,

, News Editor, Light Reading
PARTNER PERSPECTIVES
- content from our sponsors