Finisar: Bookham Wouldn't Wash
Talk about timing.
Finisar Corp.
(Nasdaq: FNSR) had scheduled its first-ever analyst day for March 15, hoping it would make a nice follow-up to a strong third-quarter earnings report on March 2.
What the company didn't know was that the quarter would be
really
strong, profitable beyond expectations, and that it would spark an optical stock rally that would have executives walking on air at the following week's
OFC/NFOEC
. (See
Finisar Ignites Optics Explosion
and
Smiles Abound at OFC/NFOEC
.)
And it's still going on. Finisar shares, which averaged 10 million trades per day during the winter, are still seeing days of 30 or 40 million shares. "As we stand here today, I have no idea who our investors are, with all the volume being traded." said CFO Stephen Workman at the analyst event.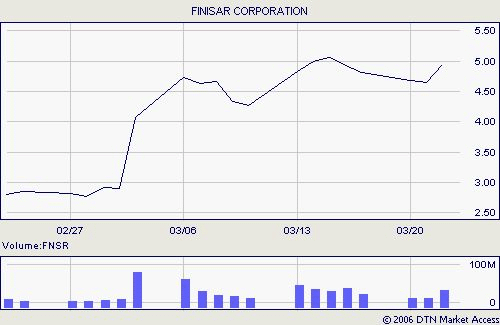 An analyst day is a company's chance to state its case. For
Cisco Systems Inc.
(Nasdaq: CSCO), that means CEO John Chambers walks around the room tossing out lots of forward-looking statements in a charming drawl. Finisar, doing this for the first time, took the opportunity to describe its history, with president and CEO Jerry Rawls talking about the old days when he and chairman Frank Levinson founded the company in a "quonset hut in an unincorporated area of Menlo Park in 1988."
Finisar's survival strategy during the downturn was to beef up, making deals like the 2004 purchase of the former
Infineon Technologies AG
(NYSE/Frankfurt: IFX) fiber optic division. Lately, it's been pushing its datacom optics more strongly into telecom, with deals like the purchase of a piece of transceiver vendor
Big Bear Networks
. (See
Finisar Buys Infineon Optics
and
Big Bear Put to Sleep
.) It's also expanding beyond communications, building lasers for optical mice.
Rawls is old-school Silicon Valley, a straight-shooter type who knows all the executive buzzwords but won't shy away from a straight answer. He took a few minutes after the conference to talk with
Light Reading
about the new-found good times.
Light Reading:
Now that your stock is high enough, who are you going to acquire?
Rawls:
(Laughs.) You know, the problem is, the public companies' stocks have risen right behind us, so they're too damned expensive to even consider acquiring them! And all of the private guys that we met down at OFC, their expectations are now all inflated, right?
Light Reading:
Rumor has it you and
Bookham Inc.
(Nasdaq: BKHM; London: BHM) wanted to merge. How close did that get?
Rawls:
Not very close. We've looked at it a couple of times, but every time, we could not figure out how we'd have enough cash to run the two companies to success if they didn't have a hockey-stick revival in telecom spending. Their plan was always: big increase in spending, big increase in volume, and that'll save them. If that didn't happen, there was no saving them. It just burns cash almost forever.
I like a lot of the things that Bookham does. They are complementary to the things that we do and with not much product overlap. A lot of people have proposed
Avanex Corp.
(Nasdaq: AVNX) as a potential partner, for the same reasons -- not much product overlap, complementary products, complementary customers. But again, the same sort of problems with big fixed cost, a lot of cash burn, and us not willing to take the chance that we would have to put our company at risk or that we would have to dilute our shares enormously in order to raise cash.
To Page 2
UPCOMING LIVE EVENTS
June 6-8, 2023, Digital Symposium
June 21, 2023, Digital Symposium
December 6-7, 2023, New York City
All Upcoming Live Events
PARTNER PERSPECTIVES
- content from our sponsors