If you're a service provider or enterprise Dell customer, the company's return to public trading is no reason to dampen your Independence Day celebrations.
"I don't expect any negative customer impact as nothing but the financial structure will change," Patrick Moorhead, president and principal analyst for Moor Insights & Strategy, said in an email statement. "According to the company, no strategic or management changes will be made as a result and Michael Dell will still own 47% to 54% of the company. Dell loses its ability to be as nimble from quarter to quarter, but the reality is that it had to file quarterly reports already, given its VMware stake."
In a maneuver that's been in the pipeline for months, Dell Technologies (Nasdaq: DELL) announced Monday morning it's exchanging its Dell Technologies Class V tracking stock for Dell Technologies Class C common stock, according to a statement by Dell. Dell previously issued the Class V stock, which was publicly traded, to track the value of VMware Inc. (NYSE: VMW) and finance its 2016 acquisition of EMC, which held a controlling interest in VMware. (See Dell considering IPO, or buying all of VMware – reports.)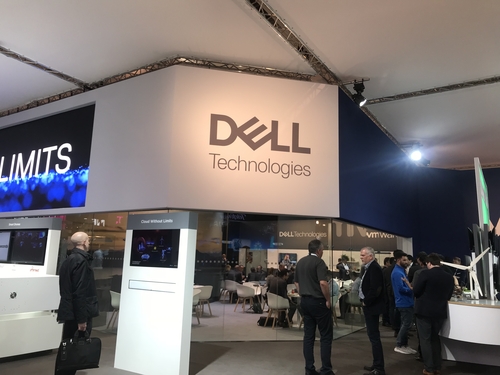 Dell now owns most of VMware and controls that company.
The exchange pegs Dell's valuation at $21.7 billion. VMware's board declared an $11 billion cash dividend, of which Dell will receive $9 billion. At the conclusion of the transaction, DVMT stockholders will own 20.8%–31% of Dell Technologies. Michael Dell and Silver Lake, which partnered with Dell in 2013 to take the company private, continue to control Dell.
The Dell Class C common stock will become publicly listed on the New York Stock Exchange, Dell says.
Michael Dell said in the company statement, "Unprecedented data growth is fueling the digital era of IT, and we are uniquely positioned with our portfolio of technologies and services to enable the digital, IT, security and workforce transformations of our customers. Most importantly, I remain deeply committed to this company and working with our world-class team to build the long-term value of Dell Technologies and its businesses." He currently owns 72% of Dell Technologies common shares, and will continue to serve as Chairman and CEO, the company said.
Dell is "strategically positioned to take full advantage of the new era of emerging technology trends including IoT, AI, machine learning, cloud computing and mobility," Egon Durban, managing partner and managing director of Silver Lake, said in the Dell statement.
VMware will continue to operate independently, Michael Dell said.
The transaction simplifies Dell Technologies' capital and ownership structure, the company said. As a public company, Dell plans to continue to maintain a focus on long-term growth that the company had while being privately managed.
Dell was floundering when the company went private five years ago, and the maneuver gave it time to regroup, away from the harsh light of public markets.
"Dell Technologies did what it had to do as a private company that would have been more difficult as a public one," Moorhead said. "It shed investments like its legacy services and software divisions, made investments, the biggest being EMC and a majority of VMware and had the time to revamp its product lines and processes. The equity markets are on fire now and given state the company's turnaround, it makes a lot of sense to me."
Dell is betting that on-premises computing has a permanent place for strategic enterprise applications, in partnership with public cloud.
Michael Dell told The New York Times: "In 2012, people were saying the PC was dead. It wasn't... Three years ago, people were saying that everything's going to the public cloud. Turns out that was completely wrong, too."
The company Dell argues that it's just plain simpler for big enterprises to hire cloud staff and build infrastructure to run the applications that are strategic to the business and differentiate a company from its competition. Enterprises will continue to use the public cloud as well, where that makes sense: For commodity application such as email, for elasticity, and to move quickly into new geographic regions. (See Dell CTO Expounds 'Insane' Theory About Enterprise Complexity and Dell CTO: Public Cloud Is 'Way More Expensive Than Buying From Us'.)
To that end, Dell Technologies controls a portfolio of companies: Dell EMC, which provides hardware for private cloud; VMware, which provides virtualization software and partners with public cloud providers for hybrid cloud; Pivotal Software, which provides a cloud-native software platform, and more. (See Dell's Software Engine, Pivotal, Climbs 5% on Its IPO.)
Dell's strategy – that the private cloud is here to stay – is bold, and it runs contrary to common wisdom, particularly Amazon, which maintains that virtually everything is moving to public cloud (and of course that public cloud will be Amazon Web Services). It's a strategy that Dell has been successful of late. Now we'll see if it wins Wall Street.
So far so good: Dell traded at $91.69 Monday afternoon, up 8.41%.
Related posts:
— Mitch Wagner




Executive Editor, Light Reading