So, Why Queue for the 3G iPhone?
3:35 PM -- It's early on Friday morning in the affluent, small English town of Epsom, just south of London (and home to EuroBlog), and there's a queue of about 40 people outside the local shopping mall's
Telefónica UK Ltd.
shop.
Why? Because the 3G iPhone is in stock (in case you hadn't heard), with
the device being given away free
to those customers prepared to sign up for a contract costing £45 ($89.42) per month or more.
And the Epsom store has 40 devices to sell, and has been advertising their impending arrival for a few weeks.
So who's at the front of the queue and why?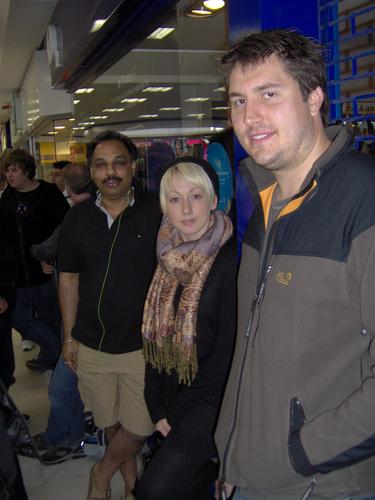 First in line is 25-year-old TV program editor Tom Attrill (on the right in the above picture), who arrived at the not exceedingly early time of around 7:30 a.m.
He currently has "a bog standard
Sony Ericsson Mobile Communications
k800i model and wants one of the
Apple Inc.
(Nasdaq: AAPL) devices because "they can do everything. I'm particularly interested in the Internet access and GPS functionality," Tom tells EuroBlog.
Isn't he bothered that the iPhone still doesn't have a decent inbuilt camera? "It'd be nice if it had a proper camera, but if I want to take a decent photo then I'll use a [separate] camera. It's not a big deal."
Next in line is 25-year-old Keeley Jackson, a locally trained actress who is currently appearing in the high-profile London stage musical
Wicked
.
Until recently she had a
LG Electronics Inc.
(London: LGLD; Korea: 6657.KS) Chocolate mobile phone, but had it stolen. Her boyfriend has a 2G iPhone and Keeley "loves it. I'm jealous of him."
She arrived at the mall at 5:40 a.m., but was waiting at the entrance that's not opened first, so Tom beat her to the front of the queue when the shopping center's doors were opened shortly after 7:30 a.m.
But both get into the store at 9 a.m. when the O2 shop's doors open, as the staff let in six people at a time to check out the new device and make a purchase.
Also among that initial six is "Captain" Gary Matharu (on the left in the above picture), the managing director of a shipping company who is there to get a 3G iPhone for his daughter. But he's not a happy camper.
He says O2 advertised a 7:02 a.m. shop opening for today, so he turned up at 6:20 a.m. to be near the front of the queue. "That's not very customer friendly," he says. "They changed the opening time overnight. That's not a fair thing to do."
By all accounts, the Captain will have had plenty more to complain about once he got into the O2 shop, as the company's ordering system malfunctioned and all orders had to be done manually, a process that reportedly took up to an hour per customer.
Way to go, O2!
The 3G iPhone also went on sale at plenty of other locations around the world today -- check out our picture gallery. (See
3G iPhone Launch Pics
.)
— Ray Le Maistre, International News Editor,
Light Reading