Ethernet Service Challenges Identified
Some key trends in the deployment of Ethernet services are emerging from the work being conducted by
Light Reading
to compile a global directory of such offerings (see
LR Creates Ethernet Services Directory
).
Data collected for the directory now includes several hundred Ethernet services offered by more than 120 operators.
Analysis of this data indicates nearly all operators offer fairly rudimentary point-to-point connections (known as Ethernet private line services), while less than three quarters of them offer multipoint networks (known as Ethernet private LAN services).
The lower proportion of operators offering Ethernet private LAN services reflects the challenges in deploying such technology on a large scale, and managing the services once they're in place, according to Chris Murton, head of Murton Consultancy & Design and a designer of systems supporting Ethernet services.
The reluctance of some operators to offer private LAN services looks likely to continue next year, according to surveys of enterprise users and service providers conducted this summer by
Heavy Reading
,
Light Reading
's market research division.
Highlights of the survey results were presented at last week's
Links 2004 conference
in California. They indicate that Ethernet Private LAN services are at the top of enterprise users' shopping lists for 2005. However, they rank fourth, behind Ethernet private lines and Layer 3 IP VPNs, in terms of service provider plans to offer those services.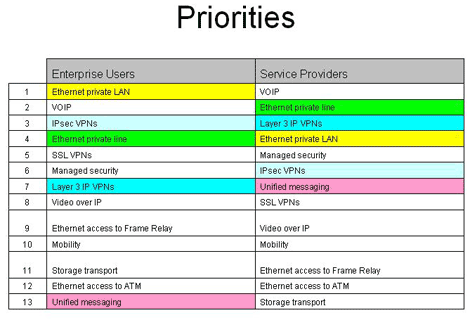 In the user survey, 47.7 percent of respondents said they would buy Ethernet private LAN services in 2005, compared to 34.6 percent who said they would buy Ethernet private line services. In the service provider survey, 75.0 percent said they would offer Ethernet private line services by the end of 2005, while 68.2 percent said they would offer Ethernet private LAN services.
The full results of the surveys will be published by Heavy Reading in December.
The data being collected for
Light Reading
's directory of Ethernet services also sheds light on the services being offered over converged Ethernet access lines -- in other words, Ethernet pipes into the operator's "cloud" over which it can provide a wide range of services.
In this case, quite a variety of services are being offered already. The most popular services are private lines and Internet access, but switched (private LAN) Ethernet, IP VPNs, and voice over IP are also offered by a large proportion of operators.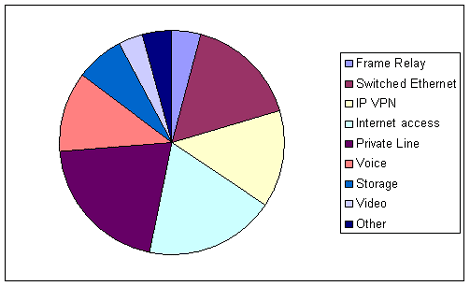 Light Reading
's Ethernet services directory is scheduled for publication on the new
Next Generation Services
Website in the coming weeks. Its goal is to enable enterprise users to quickly shortlist providers that offer the type of Ethernet service they need, in the locations they require.
Access to the directory is free of charge and service providers don't have to pay to be listed. All they need to do is download
this form
, complete it and return it as instructed. The directory is global; it will list Ethernet services throughout the world.
— Nicole Willing, Reporter,
Light Reading
PARTNER PERSPECTIVES
- content from our sponsors