Ethernet on the Brain
NEW YORK – Today
Light Reading
and
Heavy Reading
will kick off our first ever
Ethernet Expo
. The timing couldn't be better, because interest in Ethernet technology is at an all-time high as the definitive networking link between the service provider, the enterprise network, and the end user.
Ethernet
was invented by Xerox PARC scientist Bob Metcalfe, who went on to found
3Com Corp.
(Nasdaq: COMS) and who is now a venture capitalist with
Polaris Venture Partners
as well as an advisor to the
Metro Ethernet Forum (MEF)
. It's fitting then, that Metcalfe is the keynote speaker on Wednesday at the Expo. (See
Full Transcript of LRTV's Interview With Bob Metcalfe, Inventor of Ethernet
.)
Metcalfe says the Ethernet of today is almost completely different from the Ethernet he invented. Back then, it was a simple technology, with one purpose: LAN networking. But given Metcalfe's legacy, we expect he'll share some new ideas about the evolution of Etherent and its role in service provider networks.
Indeed, the game has changed. Ethernet of today comes in a rainbow of colors: There's wired Ethernet, and unwired Ethernet; 10-Mbit/s Ethernet, 100-Mbit/s Ethernet, 1-Gbit/s Ethernet, and 10-Gbit/s Ethernet; there's enterprise Ethernet and carrier-class Ethernet; copper-based Ethernet and optical Ethernet; then there's Ethernet in the First Mile (EFM), which is a different technology altogether.
So, Ethernet takes on many different shapes and forms, but there's one thing common to them all: Ethernet's a standard with almost universal acceptance. The now-common nature of the Ethernet jack is often compared to the power plug in the wall – but, in fact, it's even more standardized than that. When you travel to different nations, the power plug often changes shape – but an Ethernet jack doesn't. It's become a truly global standard.
As this global standard takes shape, one of the most important elements is that it's breaking down the barriers between service provider networks and enterprise networks. In the old days, service providers often pushed complex, proprietary standards out to their client bases. These days, however, it seems to be working in the other direction: Ethernet's ubiquitous nature in corporate networks – and simplicity for the end user – is forcing service providers to adapt the technology to mesh with the needs of their customers.
"Enterprises are prioritizing Ethernet services in their budgets and looking for Ethernet to lower communications costs, boost productivity, and provide increased agility to deal with the challenges of the on-demand business world," says Stan Hubbard, a
Heavy Reading
analyst who will be presenting some of the sessions on Ethernet services at the Expo.
"Large and small carriers around the world are reporting strong double-digit growth rates for E-Line and E-LAN services, and many are recognizing operational and capital costs savings on top of this as they move toward a more converged network infrastructure," says Hubbard.
Need proof?
Heavy Reading
recently surveyed service providers about how many of them were migrating to Ethernet-based platforms from
Sonet
– considered the benchmark for carrier-class networking technology. Just a few years ago it was considered unthinkable that carriers would rip out their Sonet gear and replace it with Ethernet.
In fact, 33 percent of service providers told
Heavy Reading
that they've already started migrating to Ethernet from Sonet.
And at
telx
, one of the leading carrier interconnection facilities, growth of Ethernet circuits as an interconnection transport is dwarfing everything else, rising by more than 700 percent during the third quarter of 2005. If you want to hear more on this, telx's chief marketing officer, Hunter Newby, will be giving a presentation at the Expo on Wednesday.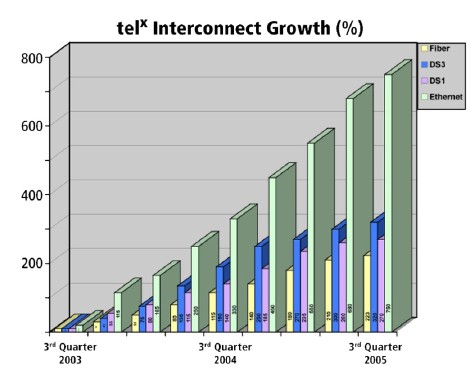 The bottom line is that Ethernet is eating everything. At the Expo this week, the leading service providers, analysts, and enterprise users will discuss how this common technology platform is going to help the entire world of networking move forward. Expect big things. We'll tell you what's happening throughout the rest of the week.
— R. Scott Raynovich, US Editor,
Light Reading
---
CALLING ALL ETHERNET SERVICE PROVIDERS:
Make sure your company and services are listed free of charge in
Light Reading
's
Ethernet Services Directory
, which already lists hundreds of services, by completing this
questionnaire
.
---