Xsigo Systems Inc. officials won't say how much they've raised to chase the new hot trend of virtualization. But it's safe to say they've got some cash.

In addition to launching its first product today, and introducing a hardware-based way to virtualize server I/O for both networking and storage, Xsigo (pronounced tsee-go) is holding a press and analyst breakfast on Sept. 12, apparently to coincide with the VMworld conference. The venue: the not-so-cheap W Hotel in downtown San Francisco.

A big splash of an entrance seems appropriate, because the three-year-old Sunnyvale, Calif., startup boasts a corporate team to die for.

Light Reading first sussed out Xsigo in 2005 after learning Ashok Krishnamurthi, the founding CEO and chairman, had left his post as Juniper Networks Inc. (NYSE: JNPR) VP of infrastructure products to become Xsigo's founding chairman and CEO.

It was a big deal given Krishnamurthi's status as a very early Juniper employee. Joining him at 100-employee Xsigo is his brother, S.K. Vinod, as vice president of business development. Contrary to early reports, a third brother, R.K. Anand, isn't with the company. (See Juniper Vets Aim for Data Center and Juniper 'Founder' Flees.)

What really elevates Xsigo, though, is a board taken from the server hall of fame. Directors include Vinod Khosla, who helped found Sun Microsystems Inc. ; Ray Lane, a former Oracle Corp. (Nasdaq: ORCL) bigwig; and Mark Leslie, a founder of Veritas Software.

Xsigo's investors include Kleiner Perkins Caufield & Byers , Greylock Partners , Khosla Ventures (led by Vinod Khosla), and Juniper.

It adds up to an arsenal that outguns most other startups. And maybe Xsigo's shyness about its funding is a cue taken from Infinera Corp. (Nasdaq: INFN), another superstartup that was razzed (and still is, post-IPO) for the amount of money it raised. (See Infinera Raises Another $110M and Infinera Goes Out – And Up.)

The concept that's pulled all those big names together under Xsigo's roof is virtualization. And like every virtualization startup, Xsigo promises it's got a new twist on the idea.

The Ins and Outs
Virtualization has become a big topic in data centers for its potential cost savings and flexibility. Taking storage as an example, the idea is to make an end user's storage appear to be on one machine, even if it's split among multiple disk drives in multiple locations. Virtualization fueled the recent VMware IPO and dotted the Top 10 Storage Startups to Watch recently compiled by sister site Byte and Switch. (See VMware IPO Nearly Doubles the Goal and Storage Startups Track Trends.)

Xsigo is taking the virtualization concept a step further to server I/O in general.

The idea is to let any server be used for any application, and company officials claim their box can change these server personalities on the fly. In other words, an application running on one server can be shifted to another very quickly. Done manually, that process could take weeks, says Jon Toor, Xsigo vice president of marketing.

"This makes the physical box I/O-personality-independent," Toor says.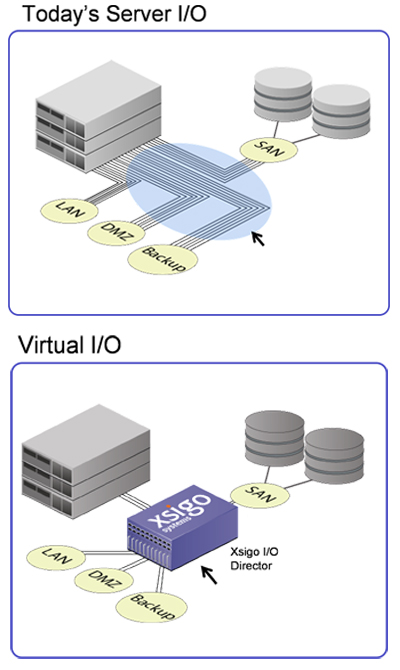 Why bother? As Xsigo's founders told Light Reading in 2005, the idea is to squeeze more utilization out of servers. A server running one application might not be needed at all hours of the day. Virtualization lets those idle computing cycles be put to work on other applications.

"You know in Star Trek, when Mr. Scott would have no power for life support? He'd have to go get it from shields, and he'd have to do that real-time reallocation from a console. That's what you'd do here," says Zeus Kerravala, analyst and honorary Star Fleet admiral at Yankee Group Research Inc.

This kind of virtualization would also let enterprises or carriers avoid having to overprovision certain types of servers. Instead, they can use a fleet of generic servers, tuned to particular applications as needed. More computing power could then be found by adding more of the generic boxes, making it easier to beef up the data center.

To make this idea work, Xsigo offers the VP780 I/O Director, set to launch today. It's a $30,000 appliance that would sit between users and servers, acting as a sort of switch. (See Xsigo Launches Director.)


Xsigo then puts its own I/O on the server side. Instead of servers having different network interface cards (NICs) for connectivity or host-bus adapters (HBAs) for storage, they get the generic Xsigo I/O, which can be changed to a NIC or HBA as needed via software commands.

Of course, the Xsigo I/O has a three-letter combo of its own: the Host Channel Adapter (HCA).

"What these guys did sounds unique, since they're looking at I/O virtualization, which is relatively new," Kerravala says.

Still, other companies are pursuing similar ideas. Startup 3Leaf Systems Inc. is offering what it calls a virtual compute environment, using load balancing as a key weapon. Trigence Corp. is working to make applications more portable -- but doing so from the application's point of view. (See Top 10 Storage Startups to Watch.)

And of course, there's always Cisco Systems Inc. (Nasdaq: CSCO), which has been talking up virtualization for the past few years and is on a crusade to make networks more application-aware. (See Cisco Speaks Applications.) Juniper has been talking similar talk since the days of its Infranet Initiative, which explains its investment in Xsigo.

— Craig Matsumoto, West Coast Editor, Light Reading