For a couple of years now, telecom equipment vendors have been crawling over one another to establish themselves in Asia, marking each piecemeal success there with trumpet blasts and a Hallelujah chorus. But very few of them actually talk about their successes in hard dollars because the road to profits there is a rocky one.

The flight to Asia itself isn't a mistake. Countries such as China have large populations that are still without wireless phone subscribers, basic telephone services, and computers that could hook up to the Internet. Also, the telecom service providers are, in many cases, government-owned monopolies, which are perceived as being more financially stable than U.S. incumbent carriers.

Table 1: The Asian Opportunity

Country
Population (in millions)
Telephone lines per 100 people
Computers per 100 people
Mobile phone subscribers per 100 people
China*
1,275.1
13.8
1.9
11.2
India
1,008.9
3.4
0.6
0.6
Japan
127.1
54.7
34.9
57.2
U.S.
283.2
66.5
62.3
44.4
* Figures for China do not include Hong Kong

Sources: UNESCO, "The Economist: Pocket World In Figures 2003"




But amidst the mad rush into Asia, North American and European companies are finding that breaking into the telecom market there is difficult and the returns unimpressive, at least at first. That's precisely why late last year Encore International president and CEO Michelle Sie Whitten observed: "You don't hear a lot about profitability in China, yet you see a lot of money chasing money there."

The tough thing about selling in China and other Asian countries is that -- as is true with U.S. carriers -- relationships are everything, and many carriers there only buy from folks they know. This is intensified by the fact that there are very few large carriers and even fewer people with direct connections to those who control the purse strings. "There are very few companies that sell directly to China Telecom and the other big carriers," says Dave Robison, VP of international sales and marketing for UTStarcom Inc. (Nasdaq: UTSI). "A lot of carriers there won't even work with startups -- or what they call 'suitcase companies.' "

"Companies operate much differently in Asia, and we've chosen to sell indirectly," says Abe Hirsch, VP of corporate business development for NMS Communications Corp.. In China, for instance, NMS works with distributors such as Beijing Linkhead Information Technology Co. and S.A.S. Group.

Besides finding the right reseller, companies hoping to sell into Asia can also team up with larger, established equipment vendors, according to Ross Lau, former president for Nortel Networks (Asia) Ltd.'s service provider solutions group. But don't be surprised if you get Huawei'd, as happened to Cisco Systems Inc. (see Huawei Admits Copying). "The risk there is that you may lose your technology in the long term," Lau says.

Even when the right partner is found or a sales beachhead is established, telecom equipment vendors soon find out that carriers in Asia have drastically different payment terms than those in North America. "It's not uncommon to take 12 to 18 months to collect your money," says Brian Noel, VP marketing and business development, Luminous Networks Inc.

Then there's the fact that most Asian carriers expect a generous discount. "It's not uncommon for U.S. companies to inflate their list prices by 100 to 200 percent so they can give 70 to 80 percent discounts," Noel says.

"Your gross margins will be appreciably lower in Asia," says Lau. "Prices are lower; selling, general, and administrative expenses are lower; and payment terms are longer. You can recover some of that through lower overhead expenses, but not all of it."

Indeed, the way to measure the success of the equipment vendors in Asia is not in the reams of PR they're generating. Instead, it's in the size of the networks they're in and the breadth of their engineering and sales resources on the ground there. "I can get a product into any place," says Robison. "That doesn't mean anything. What means something is: Are they using it in their networks, and are they paying for it?"

"It is frowned upon to have to call North America every time a technical question arises," says Lau, who was once president of Qwest Communications International Inc.'s (NYSE: Q) international business unit based in Hong Kong. "It becomes a question of how committed you are the China market; and, if you are committed, you need to have a critical mass of resources there."

The costs of doing business in Asia are high, and dozens of telecom equipment vendors are taking the plunge. At last week's OFC Conference, Joseph Lee, director of manufacturing for The Hong Kong Applied Science and Technology Research Institute Co. Ltd. (ASTRI) , discussed the abundance of manufacturing and engineering talent in Asia and how the carrier build-outs have spawned a clutter of optoelectronic components makers in some regions.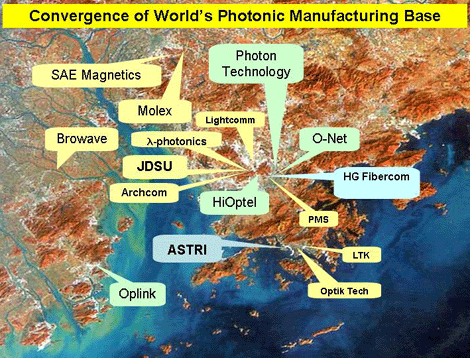 Of course, so many companies are chasing the same equipment dollars that many are becoming concerned that Asia's telecom will result in another telecom bubble, like the one that blew up in everyone's face in 2000 and 2001 (see Asia: Optical Boom or Bust? and Is a Bubble Building in Asia?). Tom Hausken, a director at Strategies Unlimited, says there are more than 420 optical networking startups in China at the moment. "There has to be a shakeout," he says. "There's some very ominous clouds on the horizon."

— Phil Harvey, Senior Editor, and Peter Heywood, Founding Editor, Light Reading