Will Spying Charges Hurt Huawei?
The capture of a
Huawei Technologies Co. Ltd.
employee taking photographs of equipment at the
Supercomm
tradeshow last week has many people scratching their heads – because the damage it could cause the company far outweighs any benefit it was likely to reap (see
Huawei in Spying Flap
).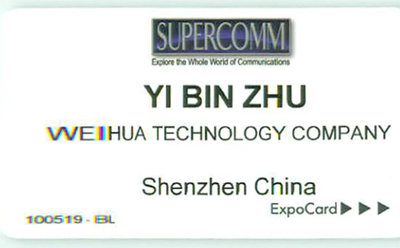 Yi Bin Zhu, a Huawei technical engineer, admits that he was taking pictures and says he didn't realize this wasn't allowed. In an interview with
Light Reading
, he denied having taken circuit boards out of boxes to photograph them, even though sources say he was found taking pictures of a piece of equipment with its cover removed. Memory sticks confiscated from Zhu's camera also allegedly contain pictures of circuit boards.
Opinions differ on the value of information that could be gleaned from photographing equipment and making notes about it (Zhu's confiscated notebook was packed with hand-drawn diagrams and other data, probably of equipment he'd looked at, according to sources who saw it). The way fiber is routed and equipment is cooled can give important clues to developers, according to Andrew Knott, VP of marketing and customer service at
White Rock Networks Inc.
, one of the vendors Zhu was planning to visit, according to a list found in his posession. White Rock is waiting to find out whether Zhu took pictures of its equipment.
It's also clear that Zhu's activities are far from unusual. "It would be a rare tradeshow that I didn't have to metaphorically slap someone's wrists for taking photos, prodding buttons, lingering too long, etc.," says Knott. "The most overtly inquisitive companies are usually Asian and Israeli."
The fact that Zhu was caught in the act is likely to be damaging for Huawei, coming as it does after a couple of other instances where the company appeared to be involved in underhanded business practices.
One episode concerns the copying of routing code belonging to
Cisco Systems Inc.
(Nasdaq: CSCO). In this case, Huawei blamed rogue developers for the problem (see
Cisco & Huawei Extend Stay
).
The other concerns allegations that Huawei built an optical network in Iraq which had a dual use – for telecommunications and for a missile network. A March 17, 2001,
Washington Post
article said: "Pentagon officials have accused the company of laying optical communications cables between Iraqi antiaircraft batteries, radar stations, and command centers, which they say could significantly aid Baghdad's efforts to shoot down U.S. warplanes patrolling the 'no- fly' zones over northern and southern Iraq. The Pentagon officials cited the alleged construction work as the primary reason for a joint U.S.-British air raid on Feb. 16, the largest strike against Iraq in two years."
Richard Lee, a Huawei spokesman, has refuted these charges in the past. He says Huawei won two projects in Iraq in 1999 but didn't go ahead with the actual work. Huawei spent two years seeking approval for the project under the United Nations' Oil for Food program (now itself under investigation), and when the go-ahead finally came through, Huawei decided
not
to go ahead "for business reasons," according to Lee. Another vendor, possibly French, took over the project, he says.
"During the bidding process, Huawei complied fully with United Nations Security Council (UNSC) Resolution 661. Details on the contract terms and technical solutions of the projects were submitted to and approved by the UNSC 661 Committee," Lee writes in an email message.
This latest incident might be enough to persuade some prospective customers and partners that Huawei isn't to be trusted.
3Com Corp.
(Nasdaq: COMS) declined to comment on the effect it might have on its partnership with Huawei, targeting enterprise users (see
3Com Feeling Cisco's Heat
).
Avici Systems Inc.
(Nasdaq: AVCI; Frankfurt: BVC7) hadn't responded at press time to requests for comment on whether the spying charges might dent its reseller agreement with Huawei.
Perhaps the most serious repercussions could be on Huawei's ambitions to stage an IPO in the U.S. These plans have already been put on ice once before (see
Huawei's US Aspirations on Hold
and
Light Reading's Top Ten Private Companies
).
— Peter Heywood, Founding Editor, and Phil Harvey, News Editor,
Light Reading
EDUCATIONAL RESOURCES


PARTNER PERSPECTIVES
- content from our sponsors