Rumors are rife over who will buy the assets of Photuris Inc., a startup that shut down in late March. The startup fizzled after failing to be shortlisted for a big contract for reconfigurable optical add/drop multiplexers (ROADMs) by SBC Communications Inc. (NYSE: SBC). (See Photuris Is Finished and Photuris & SBC: The Inside Story.)

Several have seen the former-Photuris staff returning to work in their offices in Piscataway, N.J., and that's adding to the speculation. One anonymous source tells Light Reading that efforts are being made to reconstitute the development team so that Photuris's metro box can be sold as a working product, instead of breaking it up and selling different parts of it to different buyers.

Ashish Vengsarkar, founder and former VP of product management of Photuris, dismisses this suggestion. He's involved in the sale of the startup's assets and says the development team has dispersed and there's been no attempt to re-recruit them. Former staff have been allowed into Photuris's offices to do whatever they like, but they're definitely not working on company business, he says: "The company no longer exists."

Like any media-savvy salesman, Vengsarkar adds there's been a lot of interest in acquiring Photuris's technology. "All sorts of asset acquirers are looking at it."

Any such interest would probably derive from vendors trying to accelerate the development of their own ROADM products now that it looks as though SBC and other RBOCs are serious about placing significant contracts for such equipment. Cisco Systems Inc. (Nasdaq: CSCO) appears to be in this position (see Vendors Race for Reconfigurability). Nortel Networks Ltd. (NYSE/Toronto: NT) also might be trying to catch up, according to a consultant familiar with RFPs in this field.

One rumor doing the rounds is that Mahi Networks Inc. is a potential buyer of Photuris's assets.

Some of this is based on past remarks of Bill Cadogan, general partner of St. Paul Venture Capital. When Photuris was still alive, Cadogan expressed an interest in investing in it or "buying its bones" in the event of its demise, according to one Light Reading source. St. Paul is an investor in Mahi and Cadogan sits on its board -- it's not unlikely he sees some synergy between Mahi and Photuris.

A separate source close to a Photuris competitor says he's talked to a senior executive of a service provider who says a deal for Mahi to acquire Photuris's assets is under negotiation.

Cadogan did not respond to Light Reading's requests for comment. Mahi declined to comment. So did Vengsarkar, who points out that no deals have been concluded yet.

Mahi's acquisition of Photuris's box would make sense in terms of product fit, according to Scott Clavenna, chief analyst of Heavy Reading, Light Reading's paid research division.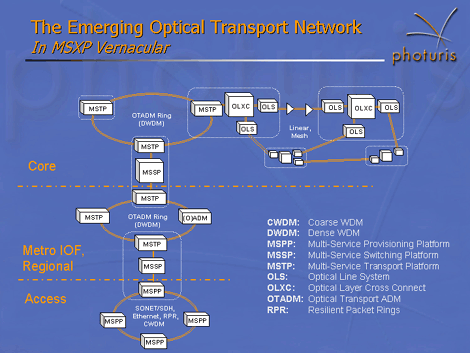 Photuris's product (diagrammed above) is a multiservice transport platform (MSTP), while Mahi's is a multiservice switching platform (MSSP) according to Clavenna, who recently completed a survey of such equipment for Heavy Reading (see The Future of Sonet/SDH). Being able to offer both products, and possibly integrate them in some way, could be an attractive proposition for Mahi.

All the same, buying Photuris's MSTP without the development team that built it would be a non-starter, sources say. So the key question remains: What are the former staff up to in the Photuris office?

— Peter Heywood, Founding Editor, Light Reading