Where Is VOIP?

Comment (5)
Despite setbacks and delays, vendors of packetized voice products that run voice over
Internet Protocol (IP)
or
Asynchronous Transfer Mode (ATM)
networks insist their future will be solid in carrier networks -- even if it takes a while to get there.
"Trial activity has never been stronger, particularly in Asia and among U.S. incumbent carriers," Hassan M. Ahmed, CEO of
Sonus Networks Inc.
(Nasdaq: SONS), a leading supplier of softswitches and media gateways, told Wall Street analysts this week. "We remain confident."
But so far, the numbers speak differently.
After all, the point of Sonus's conference call was to declare that earnings for the quarter ending March 31 will be about 46 percent lower than last quarter's, falling from $38.9 million to $21 million, a loss of $0.08 per share versus last quarter's loss of $0.04 per share (see
Sonus Estimates 1Q02 Results
). Sonus will make its official earnings announcement April 9.
Sonus isn't alone in expressing confidence in packetized voice in the face of market gloom. Even as rumors sprout in the dusky financial foundations of
Nortel Networks Corp.
(NYSE/Toronto: NT) (see
Nortel: Dark Rumblings From Ottawa
), that vendor is aggressively pursuing a voice over IP (VOIP) strategy worldwide.
Indeed, Nortel claims to have scored about $2 billion in contracts for its Succession series of VOIP and voice-over-ATM products to date (see
Nortel Network Deployed in Romania
,
Nortel Deploys in China
,
Bell Canada Trials Nortel VOIP
,
Sprint, Nortel Ink Billion-Dollar Deal
, and
Qwest Pushes Packets
).
Analysts confirm that the packetized voice market will be strong. The question is: When? "I don't think there's a service provider out there that doubts that voice over IP or voice over packet is the network of the future," says Tom Jenkins, VP of consulting at
TeleChoice Inc.
Jenkins says carriers are increasing their use of packetized voice connections, but they are stalled in plans to expand them greatly or to add new kinds of applications, such as conferencing and messaging, that build on basic packetized capabilities. Those deployments probably won't pick up until the downturn diminishes.
"Carriers see voice over IP or voice over packet as efficiency measures that are cost reducing, as opposed to revenue generating," Jenkins says. And he's not certain when the trend will change: "No one knows just when the voice network will become fully packetized -- next year, in two years, in 15 years... It's also not clear how much of it will based on IP versus ATM."
In Jenkins's view, vendors such as Nortel, whose products are based on ATM, aren't moving too quickly to change. "Some say that only ATM can furnish 100 percent guaranteed quality of service," he says. While packet-based approaches like
Multiprotocol Label Switching (MPLS)
are moving toward guarantees, they're far from offering them. (For a recent take on the ATM/MPLS argument, see
MPLS Will Outgun ATM, Says Poll
.)
Kevin Mitchell, directing analyst at market research firm
Infonetics Research Inc.
, says the current delay in adoption of enhanced services favors established vendors such as Nortel,
Lucent Technologies Inc.
(NYSE: LU), and
Siemens AG
(NYSE: SI; Frankfurt: SIE), which have an in with carriers through existing circuit-switched voice gear.
It's relatively easy for these players to add gateways and softswitches that work with carriers' existing kit, without threatening the service providers' infrastructure -- or their own contributions to it.
Once the market starts moving again, Mitchell says, things are likely to open up for newer players like Sonus and
CommWorks
, as well as for startups like
Acme Packet
(see
Acme Software Vets VOIP
). But there will be consolidation too, he says. Indeed, Sonus recently was rumored to be a possible target for acquisition by
Cisco Systems Inc.
(Nasdaq: CSCO).
Despite the ups and downs, Mitchell remains optimistic, predicting that voice-over-packet revenues will increase more than 450 percent in North America over the next four years.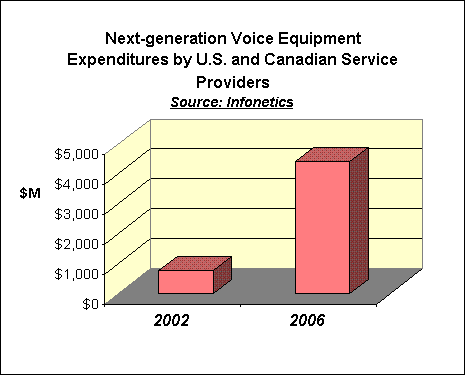 — Mary Jander, Senior Editor,
Light Reading
http://www.lightreading.com
EDUCATIONAL RESOURCES

PARTNER PERSPECTIVES
- content from our sponsors
GUEST PERSPECTIVES
- curated contributions