After 18 months of restructuring, Marconi plc (Nasdaq/London: MONI) will return to the London Stock Exchange on Monday, May 19 (see Marconi Updates on Restructuring). Industry eyes will fix on the newly reborn company, eager to see how it will fare and how its new status will affect the telecom market.

Marconi was put back on the rails when its restructuring plan was recently approved by its creditors (see Marconi Creditors OK Restructuring). After opening on the London exchange, it plans to relist on Nasdaq later this summer.

The company's reshaping has been one of the downturn's most complex, involving a series of terms for repayment that defy the comprehension of those not adept at finance (see Marconi Details Restructuring). Bottom line, though, is that when the company resurfaces as Marconi Corp. on Monday, it will have about £788 million (US$1.3 billion) in debt, down from about £3.9 billion ($6.3 billion), and previous shareholders will own just about 0.5 percent of the equity.

That means a fresh start for Marconi. But where does it go from here?

Reaction to the news of Marconi's return is likely to be mixed. For customers, the effect could be nil. After all, the entire sector is suffering from a spending famine, and one vendor's return to public trading won't change that.

Competitors are apt to be negative: Those who've used Marconi's restructuring woes against them in sales calls are losing that lever. Some larger players, such as Alcatel SA (NYSE: ALA; Paris: CGEP:PA), Lucent Technologies Inc. (NYSE: LU), and Nortel Networks Corp. (NYSE/Toronto: NT) are apt to view Marconi's debt-reduced status as unfair, in light of the struggles they continue to face without the benefit of a bankruptcy restructuring.

Others may see Marconi's emergence as an opportunity. With 80 percent less debt and the prospect of new public funding, Marconi's status as a prospective partner (see Marconi and Laurel in Talks ) or as an acquisition could rise considerably.

Consider this: Marconi remains a leading player in the SDH equipment market, particularly in Europe. For the fiscal year that ended in March 2003, the vendor made about 26 percent, £439 million (about $713 million), of its core business sales of £1.131 billion (about $1.8 billion) from optical networking (mostly SDH) multiplexing equipment. About 60 percent of that revenue came from sales in Europe, the Middle East, and Africa.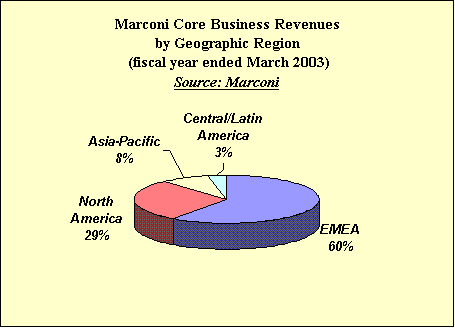 Marconi's share of the SDH market remains strong, though it's drooped a bit in the past year. Figures from KMI Corp. show that in 2002, Marconi ranked second in SDH market share. Its gear represented 16 percent of worldwide SDH sales of $3.858 billion. In 2001, Marconi ranked first, but was shouldered into second place by Alcatel, which has 17 percent worldwide share. Siemens ranked third, with 13 percent.

Table 1: Marconi Core Business Revenues for fiscal year ended March 2003

Equipment
UK�million
US$million
Optical networking
�439
$713
Broadband routing and switching
�142
$231
European access
�258
$419
North American access
�95
$154
Outside plant/power
�140
$227
Other network equipment
�57
$93
Total
�1,131
$1,838
Services
Installation, commissioning, and maintenance
�370
$601
Value-added services
�373
$606
Total
�743
$1,207
Source: Marconi




There are at least three companies that may wish to lay hands on that SDH moolah. One is Cisco Systems Inc. (Nasdaq: CSCO), which has declared its ambitions to make deeper inroads into the SDH market (see Cisco (Re)Launches SDH Push). Another is LM Ericsson (Nasdaq: ERICY), which probably doesn't want to lose its longstanding OEM agreement for SDH gear from Marconi, particularly given Ericsson's present walking-wounded status. Then there's Siemens AG (NYSE: SI; Frankfurt: SIE), which could use more SDH customers to tighten its hold on the segment.

One analyst sees yet another scenario: "Buying Marconi cheaply might give an Asian vendor a key presence in Europe," says Richard Webb of Infonetics Research Inc. He notes that Huawei Technologies Co. Ltd. has been looking to build a European customer base.

Anyone purchasing Marconi would have to consider that it's still got some downsides. It's aiming to sell its North American access and outside plant/power businesses eventually. It's got a ho-hum record with its other products, notably its multiservice switches and DWDM gear. And it's playing catchup in the DSLAM and softswitch market (although that's not how CEO Mike Parton sees it -- see Mike Parton, Marconi).

Though Marconi continues to hold its own with big carriers like Telecom Italia SpA (NYSE: TI) and Telstra Corp. (see Telstra Picks Marconi Gear), it's lost some ground elsewhere -- most notably at British Telecommunications plc (BT) (NYSE: BTY; London: BTA), where it seems to have given way to Ciena Corp. (Nasdaq: CIEN) on a big IP/MPLS buildout (see Ciena's BT Coup: How Big?).

Still, Marconi's SDH share is clearly a bit of ammo with which a partner or acquirer could face Alcatel -- the gorilla looming in the SDH mists. According to KMI analyst Michael Arden, Alcatel went from second to first place in 2002 by adding next-generation intelligence to its SDH gear (see Alcatel Spruces Up SDH Box).

Marconi spokesman Joe Kelly says the company's not focused on any potential mergers. While he doesn't know of any clause in Marconi's Byzantine restructuring agreement that would preclude a buyer making an offer, he says it's not in the corporate consciousness at the moment: "We're focused exclusively on relisting, rebuilding, and maintaining our progress."

— Mary Jander, Senior Editor, Light Reading