WaveSmith Targets Cascade Switch
WaveSmith Networks
(NYSE: AMD) has an interesting plan: Hit
Lucent Technologies Inc.
(NYSE: LU) when it's down.
The approach: Give carriers an alternative to Lucent's carrier ATM (asynchronous transfer mode) switching products by building a competitive product that offers higher density, IP features, and open management interfaces. The primary target is the CBX 500, the carrier switching product that Lucent acquired in its purchase of Ascend/Cascade, which has been the leader in the product category.
"Carriers won't have to change the way they build networks," says Bob Dalias, WaveSmith's President, CEO, and founder, of his plans to offer an alternative to the Lucent products. "It gives us an opportunity to be a second source.
It's a similar strategic approach to the one that
Juniper Networks Inc.
(Nasdaq: JNPR) used to go after
Cisco Systems Inc.
(Nasdaq: CSCO). Juniper got its foot in the door by boosting performance of Internet core routers while at the same time offering a compatible product that could be used as a second source. The only question is whether WaveSmith's team has the wherewithal to execute in similar fashion.
Tim Kraskey, managing director at
YankeeTek Ventures
and a former VP of marketing at Ascend and Cascade, says it's not as easy as it sounds.
"I think they've got their work cut out for them," says Kraskey. "As a management team, executing in a tough marketplace is not going to be easy."
Indeed, WaveSmith's got competition. Of primary concern is
Équipe Communications Corp.
, a company staffed by many of the employees from the CBX 500 team at Lucent (see
Équipe Scores Another $51 Million
). And Lucent is working on a successor to the CBX 500, though many of the players involved in the orginal development of the switching platform have left the company, including those that went to Équipe.
WaveSmith says it differs from Équipe in that it's targeting a product for the network edge, rather than the core of telecommunications networks. But that may be splitting hairs. Such positioning puts WaveSmith in an awkward position between a large core switch such as Équipe's and the multitude of access and edge players.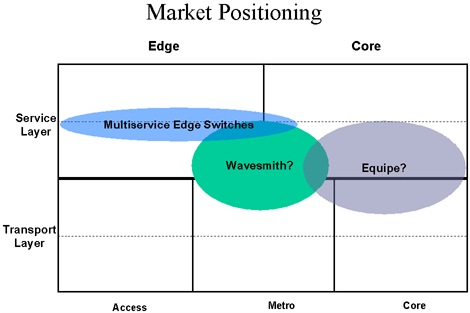 There are other warning flags: WaveSmith has raised $23.5 million in venture capital so far, but that's not a huge amount for an equipment company in a funding environment that's getting tighter.
WaveSmith's products, grouped as a "WaveForm Architecture," will handle TDM (time-division multiplexing), ATM, frame relay, and IP traffic over a protocol-agnostic, packet-based switching fabric, according to WaveSmith officials. The switch will scale to 7.6 Gbit/s per one inch of rack space, and its management system is designed to accomodate standards such as CORBA, SIP, and MPLS, according to WaveSmith's management team.
Despite the challenges, analysts say the market opportunity is large.
"It's an installed base that's huge," says Scott Clavenna, of
PointEast Research LLC
and
Light Reading
's director of research, who estimates there must be tens of thousands of Cascade switches installed in telecommunications carrier networks. "Once you bought a Cascade switch, you got locked into the whole product line. It's in almost every central office in the country. The RBOCs are definitely ready for the next generation of product."
Indeed, Lucent is vulnerable in the product category (see
Lucent Losing Grip on ATM Core?
). The company is also undergoing a major financial and management crisis after announcing several earnings shortfalls and the resignation of former CEO Richard McGinn (see
Lucent Starts Cleaning Up
).
WaveSmith plans to ship a beta product in the summer and make the product fully available by the end of the year.
-- R. Scott Raynovich, executive editor,
Light Reading
http://www.lightreading.com
EDUCATIONAL RESOURCES



PARTNER PERSPECTIVES
- content from our sponsors