Google (Nasdaq: GOOG)'s purchase of YouTube Inc. is but one example of the new wave of consumer Web services that today's phone companies can't seem to cash in on. But that trend may change if products such as Alcatel (NYSE: ALA; Paris: CGEP:PA)'s My Own TV catch on in IPTV networks. (See Google to Buy YouTube.)

Alcatel's My Own TV application allows IPTV subscribers on a carrier network to upload and share their home videos with others. They can program their own TV channels, broadcasting to just a few friends or everyone in town.

Derek Kuhn, a senior director for strategic solutions at Alcatel, says My Own TV indeed has some clear advantages over online video sharing. "It's on TV, not on the computer, and you're not watching just one-fifth of a screen," Kuhn says. "It's super simple to use, and you're not searching on tons and tons of stuff; most of what you're getting is meant for you." (See LR Ranks Video Sharing Sites.)

What's on My Own TV? It's your daughter's science fair on channel 701, your brother's wedding on 706, the neighbor kid's Bar Mitzvah on channel 1002. Some screenshots provided by Alcatel show the program's slick interface for unpolished home movies: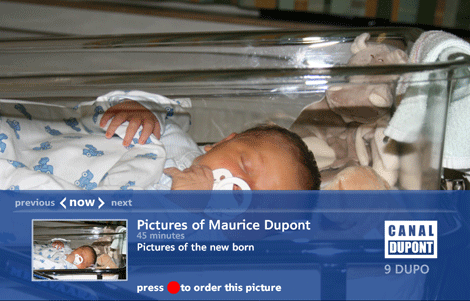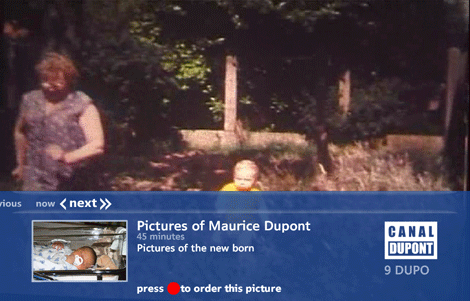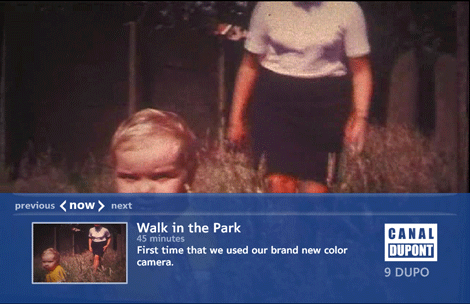 Alcatel hopes to sell its My Own TV software to service providers that wish to enable their subscribers to share video on a closed IPTV network. Alcatel says it's still studying user response to the product, and isn't ready to market it aggressively to its telco customers like AT&T Inc. (NYSE: T).

AT&T has stressed the community TV and bi-directional aspects of it's U-verse IPTV offering, but says it has no immediate plans of adding a service like My Own TV. "It's something we are looking at -- we're looking at a lot of different options," AT&T spokesman Wes Warnock told Light Reading Wednesday. "The capabilities are almost limitless, but we haven't announced any plans at this point."

Here's how My Own TV works: Subscribers produce their multimedia content on the PC using programs like Sony Corp. (NYSE: SNE)'s MovieShaker or Apple Inc. (Nasdaq: AAPL)'s iMovie. The content is then uploaded to the My Own TV platform on the network. The platform accepts a variety of file formats, and transcodes those files into MPEG-4 or Windows Media files for distribution on the IPTV system.

The content creator then enters the names of all the subscribers that are to view the content, like a buddy list. "You can send an invitation to join a channel, and it comes up as part of the guide. If you go to that channel, you can have video-on-demand control of that content," Alcatel's Kuhn says. (See Quigley: IMS Won't Cure All.)

The My Own TV application is made with Alcatel code, but runs on top of Microsoft Corp. (Nasdaq: MSFT) TV's middleware platform, Alcatel says. When users' videos have been uploaded to the network, the titles appear in the Microsoft TV programming guide alongside VOD, recorded, and broadcast content. (See Microsoft Says Middleware Not a Problem.)

The carrier deploying the service can set its own file size and length limitations, since it will host the content on its servers. The service provider can also set a lifespan for the content, dropping it off the system after so many days, weeks, or months, Kuhn explains.

The application is being trialed with several hundred users in Lommel, Belgium, even though it has been available since 2005. Alcatel says it is acting as the "service provider" in the Lommel trial. That is, it's hosting the video content on its servers. The service is being delivered over Lommel's municipal fiber network.

"The purpose of the trial is to gather information about the interest in creating content, and this feedback will be used by the team in future iterations of the product," an Alcatel spokeswoman says.

Kuhn says the Belgians are uploading video prolifically. The only rule is that when users choose to broadcast their content to everybody in the community, the content must make it through the censor. The small board is made up of community leaders and technical people who meet periodically to make sure content is "appropriate."

City government in Lommel has also gotten in on the act; it's launched its own channel to broadcast everything from city council meetings to mayoral interviews to town picnics.

At the same time as My Own TV was launched last year, Alcatel launched another "community TV" application called Amigo TV. Amigo isn't a content publishing tool like My Own TV. Rather, it allows users to suggest video to each other and watch it together in a sort of virtual living room.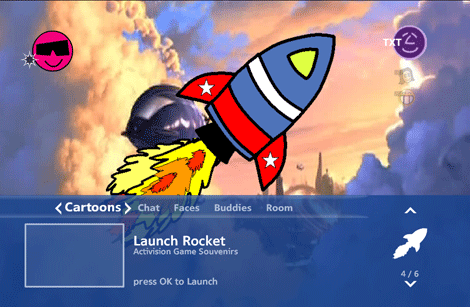 Amigo TV also enables IM and voice chat conversation among the participants as they watch the same shows. The watchers can also represent themselves onscreen using avatars.

In one phase of the trials of Amigo TV in Lommel, Kuhn says, those avatars were replaced by live video images of everybody in the virtual living room. "It was a huge bomb," Kuhn says. He explains that viewers don't like to be watched while they're watching TV. Go figure.

— Mark Sullivan, Reporter, Light Reading