There's no question that service providers are in a pinch for cash and the effects are hitting system vendors and component manufacturers alike. But there is light at the end of the tunnel.

Infonetics Research Inc. this week published a report that surveyed over 1,400 large and small businesses across the U.S. and Canada who say that they plan to build out key areas of their networks. What does this mean? More demand for IP services like virtual private networks (VPNs) and managed security services should give service providers incentive to offer new services, which means they, in turn, will need to buy hardware from system vendors that allow them to do this.

"We didn't focus the report on the impact on service providers," says Jeff Wilson, executive director at Infonetics. "But when you look at the big picture, you see that everybody is planning to buy more bandwidth, and that will have an effect. The boom isn't over."

The study, "Network Technology Adoption Forecasts, US/Canada 2001," examines a cross-section of organizations of various sizes to see how far networking and Internet technologies and services have penetrated organizations. It also provides adoption rate forecasts through 2005.

VPNs represent one of the more encouraging data points in the report. According to the study, 56 percent of large organizations (companies with more than 1,000 employees), had site-to-site VPNs in 2000. This percentage should increase to 84 percent in 2005. Small companies with 20 to 100 employees are expected to grow from 13 percent in 2000 to 50 percent by 2005. The same sort of uptake is also expected to happen in the area of managed security. Twenty-five percent of small businesses used managed security services in 2000 and 69 percent are expected to use them in 2005.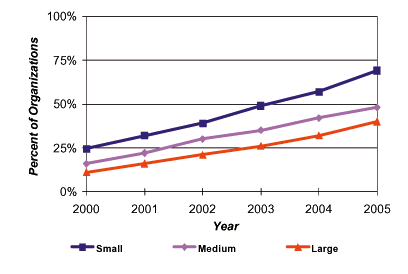 Growing demand for VPNs and managed services is music to the ears of companies like Ellacoya Networks Inc., Celox Networks, Quarry Technologies Inc., CoSine Communications Inc., and Shasta (now owned by Nortel Networks Corp. -- NYSE/Toronto: NT), all of which are building service aggregration platforms. They are banking on the fact that enterprises and small business customers will want to use VPNs and other outsourced IP services from carriers.

But some analysts question how quickly VPN adoption will occur. Frank Dzubeck, president of Communications Network Architects Inc. says that it could be a long while before larger companies feel comfortable enough with VPNs to use them for critical business applications. He also adds that service providers need to do a better job of offering and deploying services.

"The fact is that most of the services aren't there yet," he says. "Look at the big guys like Sprint Corp. (NYSE: FON) and WorldCom Inc. (Nasdaq: WCOM). Their service sucks. And the average corporation isn't running out to an XO Communications Inc. (Nasdaq:XOXO) or some other startup supplier."

--Marguerite Reardon, senior editor, Light Reading, http://www.lightreading.com