STOCKHOLM -- VON Europe 2006 –- Take a bunch of VOIP-heads, three days, beer at lunchtime, exhibitors desperate to cut their rivals off at the knees, and some colorful attire, and you've got this year's VON Europe show in Stockholm, Sweden.

The event had it's usual smattering of notable presentations, including the dismemberment, dissection, dousing, and deep frying of Europe's traditional telcos by Daiwa Securities SMBC Europe Ltd. analyst James Enck, seen here engaged in the sector's post mortem. (See Analyst: 'Investors Hate Euro Telecom'.)




Then he had lunch, where he washed down some incumbent business plans with a nice little Chianti. (Apologies to Dr Lecter...)

And it wouldn't be VON Europe without a stage appearance by Skype Ltd. CEO Niklas Zennstrom, who passed comment on his company's decision to give away free PC-to-PSTN calls in North America for the rest of the year. (See Analysts: Skype Freebie Is Defensive and 'Free' Skype Could Be Costly.)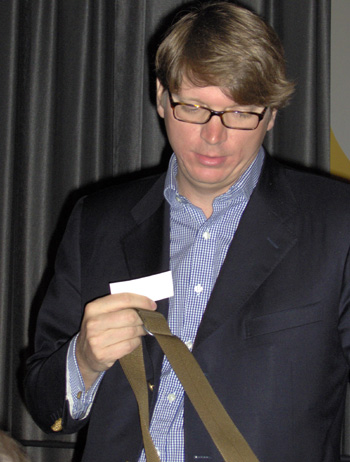 Zennstrom told show attendees that the cost to terminate calls in North America is "very low, and rather than spend lots of money on marketing we decided to invest in something for users by giving them free calls," and relying on viral marketing to add new users that want to take advantage of the promotion.

He added that, although Skype's user base was now more than 100 million, "there are huge opportunities to grow," as penetration rates among online users is still quite low in countries such as the U.K. (3 million users, about 8 percent of the online population), Germany (5 million users, an 11 percent penetration rate), and China (13 million users, a 13 percent). (See Skype Hits 100M.)

To help enlarge the numbers, Skype has started beta trials of its latest service development, called Skypecast, which Zennstrom believes will be of particular interest to bloggers. This allows any Skype users to set up and host, for free, an interactive mass discussion involving up to 100 people. "We've thrown this application out to the user community -- it's still very early days," said the CEO, who didn't say whether anyone had thrown it back yet.

All of which was rather overshadowed by VON figurehead Jeff Pulver, who appeared to have been caught in a shower of Purple Rain.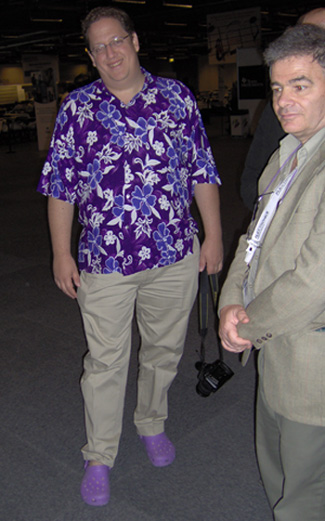 And as we're referencing Prince, who famously changed his name to a symbol and became "The Artist Formerly Known As Prince" between 1993 and 2000, it's time to clear up the confusion surrounding Seamus Hourihan of Acme Packet Inc. (Nasdaq: APKT), the session border controller vendor that renewed its vows with Italian softswitch vendor Italtel SpA during the event. (See Acme, Italtel Still Buddies.)

Why? Because he's followed in the hallowed footsteps of Prince and "Diddy" (AKA Puff Daddy, Puffy, P. Diddy, or his real name, Sean John Combs) by revamping his moniker.

You see, he used to be called Jim. (See Session Controllers Storm Chicago.)

But now he's Seamus. (See Acme Has IMS Package.)

Why? "The VP of Marketing formerly known as Jim" says he was known by both first names -- Seamus is the Gaelic version of James -- and decided to settle on just one to "simplify my life."

Just don't call him Diddy.

— Ray Le Maistre, International News Editor, Light Reading