Worldwide revenues for next-generation voice products dipped in the third quarter, but they're still on track for the first year of growth in two years, according to Infonetics Research Inc. (see Next-Gen Voice Revs Slip in Q3).

Next-generation voice is a segment that rises and falls dramatically as the big carriers edge their way into the VOIP arena. Because it's in the early stages of deployment, it's subject to lumpy sales numbers.

Revenues for next-gen voice products dropped 19 percent from the previous quarter to $254 million, says Infonetics. Nortel Networks Corp. (NYSE/Toronto: NT) was the culprit behind the third-quarter drop-off.

"This is still an emerging market, and a purchase order from a single large carrier can throw the market into strange ups and downs, which is what we've witnessed over the last few quarters," says Infonetics Research's Kevin Mitchell, lead analyst of the report.

Mitchell points out that if you move to annual comparisons, the growth curve smooths out and tell us that 2003 will be the first year of annual growth in two years.

What happened at Nortel? Nortel won some big contracts in the first and second quarters of the year, but its shipments for media gateways are down 75 percent in the third quarter. "They had some good quarters for a while, a big contract with MCI, but that deployment phase has stopped and has contributed significantly to overall revenue declines in this category," says Mitchell.

A Nortel spokeswoman says such a slowdown is common at this time of year: "Our media gateway market share position for the third quarter is attributed to normal seasonality of trunk port shipments and the decline of the media gateway market as a whole for the third quarter. Given our strength in softswitch shipments, we are well-positioned for future trunk growth." (See MCI Vouches for Nortel's VOIP.)

Infonetics blames the decline in media gateway sales in general on the fact that this product segment is shifting between an older and newer generation of products. "Convergence switches and Class 5 packet switches are on the rise as carriers increasingly pick them for VOIP deployments, while legacy categories like RAC [remote access concentrator] VOIP gateways, used for dialup, are in decline," says Matthias Machowinski, co-author of the report.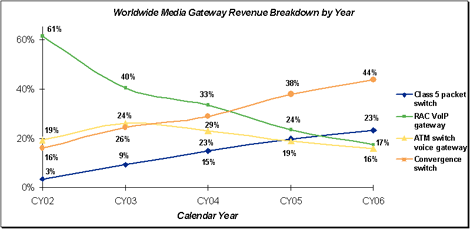 Worldwide media gateway revenues fell 27 percent to $156 million; Sonus Networks Inc. (Nasdaq: SONS) was the only big-five vendor to improve in this environment. Lucent Technologies Inc. (NYSE: LU), Cisco Systems Inc. (Nasdaq: CSCO), and UTStarcom Inc. (Nasdaq: UTSI), and Nortel make up the other four key players here.

According to Infonetics, approximately 37 percent of the revenues for next-gen voice equipment is coming from North America, 27 percent from EMEA (Europe, Middle East, Africa), 30 percent from Asia/Pacific, and 6 percent from CALA (Central America, Latin America). Other takeaways from the report, which is published every quarter, include:
Worldwide softswitch revenue remained steady at $77 million
Session border controllers were down 12 percent from last quarter, but only account for 3 percent of the overall next gen-voice segment (see Session Controllers Kick Off)
— Jo Maitland, Senior Editor, Boardwatch