Thought mobile broadband was a thing of the future? Wrong!

With endless speculation, on these pages and elsewhere, about wireless mesh, municipal WiFi, and Mobile WiMax, you may not have noticed that mobile broadband is already here -- in the shape of HSPA a.k.a. 3G Mobile Broadband.

Unstrung had the chance (and made the effort) in the summer and autumn of 2006 to road test Vodafone Group plc (NYSE: VOD)'s newly launched 3G Broadband network in the UK. The conclusion: This is killer technology.

And make no mistake, this is a big deal for the wireless industry. HSPA (High Speed Packet Access) delivers 3G as it should've been when the first networks were launched back in 2003. Which, in a nutshell, means faster and lower latency connections for end-users, and the ability for operators to support more users per sector/cell, and therefore to improve the economics of packet data over 3G.

As the first network to launch HSPA in the U.K. in July 2006 (and one of the first globally) Vodafone initially focused on the business market, where it is the leading mobile services provider by revenue, with the launch of a data card from Option NV (Euronext: OPTI; Nasdaq Europe: OPIN).

The marketing pitch is as straight-forward as it gets, with Vodafone selling a mobile broadband Internet access service, dubbed "3G Broadband." The initial rollout was focused on London and other major British cities, with coverage across Vodafone U.K.'s entire 3G footprint scheduled for the end of 2006.

And there's no doubt, Vodafone sees coverage as a key selling point. Check this advertising seen around London -- compelling, no?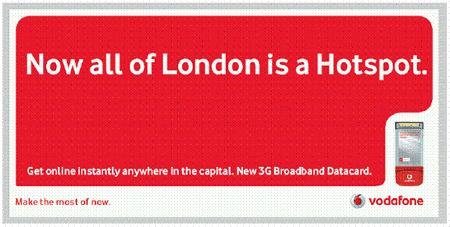 Like any other data card service, it's simple enough to install, configure, and use. And at first glance there's not a huge amount that's new. Take a PC Card, plug it into a laptop, and connect to the Internet. No magic there.

It's after a period of sustained and regular use, that the superiority of 3G Broadband really comes through.

In everyday usage situations (in meetings, at conferences, and the like) the test unit typically gave around 1-Mbit/s download speeds while stationary. Even in locations with poor signal strength (the 9th floor meeting rooms at Unstrung's London office, for example) the service was able to stream 700-Kbit/s video without a hitch.

Latency is also noticeably better. Reponse times to www.google.com are in the range of 100ms to 200ms, which is slower than the 40ms from, say, a typical DSL line, but just about good enough for VOIP-to-landline calls using services such as Yahoo Inc. (Nasdaq: YHOO)'s Phone Out.

More to the point for real on-the-move business users, this lower latency enables use of transactional line-of-business applications such as Siebel Systems Inc. (Nasdaq: SEBL) or SAP AG (NYSE/Frankfurt: SAP). This means users can update and pull-down information in corporate databases in real-time without having to rely on disconnected operation and time-delayed synchronization.

Another practical benefit of HSPA is the faster upload speed of around 300 Kbit/s, versus 64 Kbit/s on previous versions of 3G. This makes HSPA a must for anybody that needs to send large attachments, such as PowerPoint, images, or media files.

The main downside to the service -- isn't related to the service at all. It's a hardware issue. Put simply, having a PC card sticking out the side of your machine is messy and awkward. Add to that, an intensely annoying bright blue light that flashes when the device is connected, and the case for integrated 3G/HSPA cards makes itself.

The bottom line is this is a great service that actually works well-enough for daily use. Coverage is good, it's reasonably fast and consistent, and latency is manageable. Any organization looking to connect notebook users to corporate resources, or simply the Internet, should investigate the potential of HSPA. Oh, just make sure you get the unlimited data plan.

The Vodafone data card with HSPA service was loaned to Unstrung free of charge for a limited period. Real pricing is here.

— Gabriel Brown, Chief Analyst, Unstrung Insider