They say pride comes before a fall, and that certainly seemed to be the case with VocalTec Communications Ltd. (Nasdaq: VOCL).

The company loves telling people that it was one of the pioneers of VOIP systems, but it failed to notice a new VOIP market, for edge equipment, roar into life about a year ago. As a result, it's performed dismally, while other vendors' valuations have rocketed and VOIP service providers such as Vonage Holdings Corp. have grown like crazy (see VOIP Stocks: How High? and Vonage Reaches 200,000 Lines).

At long last, VocalTec has woken up and has now revamped its former product line by breaking up its all-in-one H.323-based VOIP platform into bite-sized, multiprotocol chunks, called the Essentra suite, in an effort to find some new traction with service providers (see VocalTec Revamps VOIP Portfolio ).

"What we had before was a broad platform that had multiple components. But many potential customers already had certain elements in their network and wanted to add to what they had rather than replace with a complete system," says Dr. Ramesh-Lakshmi Ratan, senior VP and President of VocalTec Americas.

"This new approach is in direct response to customer demand. To address those demands we've created a number of discrete products that address specific customer needs," says Ratan. "Now carriers can mix and match our products with those from other vendors."

Included in the new lineup, all of which supports legacy as well as new VOIP protocols, is the BAX broadband VOIP access platform, a "SIP-based softswitch platform" that is basically a feature server with call control features, a Web-based subscriber management tool, and interfaces to circuit-switched networks.

Ratan says this will allow any service provider to offer Vonage-type services over broadband connections. "This is our big push into the access space. Having helped to build core VOIP networks, we're now going out to the edge. This is a recognition that the edge of the network has become important again," says Ratan, in case anyone had missed the growth in edge products and broadband services.

And because service providers can deploy a BAX box all by itself, without having to install any other new elements, "it lowers the entry point for VOIP, but allows the user to scale up and add other elements as they need it without having to spend hundreds of thousands of dollars to get up and running."

Ratan adds that much of the development of the new Essentra line has been done in collaboration with service provider customers, and that some of the new products are already installed in commercial networks, though he can't reveal which ones.

Along with the new product line comes a new set of partnerships (see Acme Partners With VocalTec and VocalTec Teams With EyeBill). But while it has some solid legacy business and can quote some interesting statistics (see VocalTec Tops Indian VOIP League and VocalTec Expands DT's VOIP Network), what the vendor needs most of all is new customers and new revenues.

In 2003 the company's revenues were $18.7 million, and it posted a net loss of $8 million. Its two most recently reported quarters have shown cause for concern. In the fourth quarter of 2003 its revenues were $3.4 million, and CEO Elon Ganor noted a "weakness in overall demand for our H.323 equipment." (See VocalTec Posts Q4 Loss.)

Then, in the first quarter of 2004, revenues sank to just $1.2 million (compared with $6.2 million a year earlier), with slow sales cycles blamed for the slump. Second-quarter figures are to be published next Thursday, July 22.

Of those shrinking revenues, Ratan says the company has gone through "self-inflicted starvation as we've undergone this transition and turned our R&D towards the new product line."

In March this year, VocalTec raised $9.8 million for "working capital and general corporate purposes" through a private placement with institutional investors of 2.4 million shares at an aggregate purchase price of $4.10 per share. Since then, the price has halved and stands today at $2.11 (see chart below).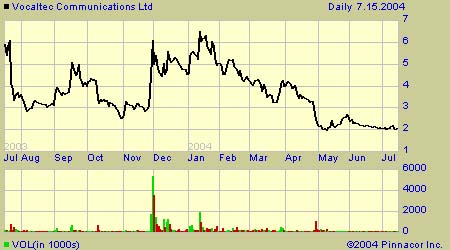 So can the revamp revitalize the company? Joe McGarvey at Current Analysis says the new product line is "important to VocalTec's success. The company is urgently seeking a revenue source to make up for the company's difficulties in the H.323 space and the fact that the industry is making the H.323-to-SIP transition faster than was expected."

"It's too early to evaluate if VocalTec's specific products are registering with service providers, but it is safe to say that the process of breaking down the softswitch into more specialized components is a concept that is catching on," says McGarvey. He says creating multiple products based on the old softswitch platform "makes sense, as it provides potential customers with a greater degree of deployment flexibility. VocalTec is now more likely to find a sale here or there with a service provider that is looking to mix and match products and vendors in a cost-effective solution. In addition, service providers can better match resources with the actual demands placed on the network if call control components are broken down into more pieces."

And McGarvey reckons the company could find some takers for its BAX broadband platform with Tier 2 and Tier 3 service providers.

Jon Arnold, VOIP equipment program leader at Frost & Sullivan, agrees that the BAX product and the new partnerships provide "a good way for VocalTec to grow. I like the added focus on broadband." He also likes "the idea of modular, mix-and-match building blocks. It gives service providers and other vendors a lot of ways to do business with them."

But he also thinks the company has, to some extent, dropped off the pace and fallen behind other vendors that have either "developed fully integrated platforms, such as Sonus Networks, or have merged or been acquired, such as Telica." (See Lucent Buys Softswitch Vendor Telica.)

But another industry analyst, who requested anonymity, was less kind. "VocalTec has languished for years. It does need a new direction, and maybe this move will reinvigorate the company, but I don't think it matters what they do. When I think VOIP, VocalTec doesn't make the list. It used to be a serious player back in the toll-bypass H.323 days, but no longer."

— Ray Le Maistre, International News Editor, Light Reading


---
For more on this topic, check out:
---
For further education, visit the archives of related Light Reading Webinars: