Times were tough for VOIP systems vendor VocalTec Communications Ltd. (Nasdaq: VOCL) last summer as it shifted away from its end-to-end, all-in-one VOIP system strategy (see VocalTec Wakes Up).

Now things have gotten worse as the company has reported a disastrous fourth quarter and nearly run out of cash (see VocalTec Suffers Q4, Full Year Loss).

For starters, the company's revenues dropped by about 68 percent for the three months ended December 31, 2004. VocalTec pulled in $1.1 million in revenues, and recorded a net loss of $3.4 million, or 22 cents per share, during that quarter.

For the full year 2004, revenues were $5.5 million, compared with $18.7 million in 2003 -- a 71 percent drop. Net loss for the year was $13.1 million, or 90 cents per share, compared with $8 million, or 65 cents per share, in the previous year.

Amazingly, VocalTec's revenues have crashed as the VOIP systems market has boomed, other emerging players have expanded their customer bases and revenues, and carriers have started spending more on capex (see Carrier VOIP Equipment Rises 69% and Report: Carrier Capex Increasing).

To make matters worse, the firm is running out of money. VocalTec had just $7.9 million in cash at the end of 2004, having burned through $2.9 million of its reserves during the fourth quarter. "Cash is running out," CEO Elon Ganor said during the firm's conference call on Thursday. "We need to act soon, and we're seeking funding."

CFO Hugo Goldman added: "Obviously our cash position is not at a comfortable level. Addressing our long-term liquidity is our top priority."

Neither man mentioned how VocalTec might attempt to raise fresh funds, and none of the company's executives were available for comment Friday to respond to questions.

VocalTec's share price dropped more than 13 percent Thursday to close at $1.34, and has dipped a little further to $1.31 today, valuing the vendor at $19.7 million. While that's not quite as bad as the firm's 12-month low of $1.06, it's way off the $5.75 the stock achieved exactly a year ago (see chart below).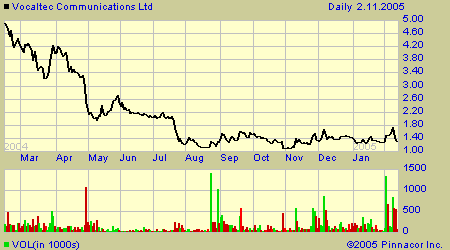 The fourth quarter saw VocalTec's first sales of the new Essentra products (to three customers); and 10 service providers are now trialing various network elements, in particular the vendor's Class 5 replacement softswitch (see Spain's Nova Deploys VocalTec VOIP).

The sales of those new products took gross margins up to 46 percent from 31 percent in the third quarter, when revenues totaled $1.2 million.

But VocalTec faces a very tough competitive environment. COO Moti "Doctor" Suess noted that in large RFPs it is competing with Alcatel (NYSE: ALA; Paris: CGEP:PA) and Huawei Technologies Co. Ltd., while in smaller deployments the main challenge comes from Cirpack and NetCentrex SA.

The two French firms have both managed to build themselves brand recognition and customer bases while VocalTec has been trying to turn its ship around. (See CyberCity Picks Cirpack for VOIP, Magnet Selects IBM, Cirpack , Cirpack Claims Euro Ranking, NetCentrex Wins in Bulgaria, Highdeal, NetCentrex Announce Contracts, Tiscali Picks NetCentrex for Euro VOIP, and France Telecom Launches IP Centrex.)

Market conditions are being made even tougher as VocalTec tries to conserve its cash. In the fourth quarter the firm spent $1.35 million on sales and marketing expenses, just half of the figure from a year earlier.

CEO Ganor told the conference call, "there's room for big and small players in this market, and we're not ruling out ties with bigger players that could further our potential."

A major partnership might help, but such a chance is unlikely to arise until VocalTec has secured some new funding, and at the current rate of cash burn the company's management has only several quarters to find a solution.

— Ray Le Maistre, International News Editor, Light Reading