KELLER, Texas -- It's official: Verizon Communications Inc. (NYSE: VZ) and Charter Communications (Nasdaq: CHTR) are direct competitors for TV and video services.

With a swift, unanimous vote, Keller's City Council approved Verizon's cable franchise agreement last night, despite objections from Charter, the city's primary cable TV provider. The historic vote clears the way for Keller to become one of the first cities in the U.S. where Verizon turns up its FiOS TV service, planned for later this year.

These small-town wins are important because they're setting a precedent for Verizon, and other wireline carriers, to show they can deliver services other than voice and broadband. This will be key as carriers compete for shares of each customer's communications and entertainment budget.

Now that Verizon has official permission to operate a cable TV service in Keller, the company is going ahead with plans to deliver its service, using software from Microsoft Corp. (Nasdaq: MSFT) and video delivery equipment from Motorola Inc. (NYSE: MOT). (See Verizon Makes Microsoft Video King.)

Rather than deal with cable franchise agreements in its territories, SBC Communications Inc. (NYSE: SBC) has declared its upcoming video service exempt from such regulations because it is a pure IP service, like VOIP (see SBC Sees IPTV Interference)

Keller, the place where Verizon kicked off its FTTP efforts last summer, sits north of the Dallas-Fort Worth metro area, one of SBC's largest territories (see Verizon Flaunts Fiber Plan). Less than 10 percent of Keller is served by SBC, and some are served by OneSource, a facilities-based CLEC that provides phone, TV, and data services to the city government and schools. From Verizon's central office in Keller, the carrier can reach about 80 percent of Keller, about 400 homes in neighboring Southlake, and a smattering of homes in Fort Worth and Westlake.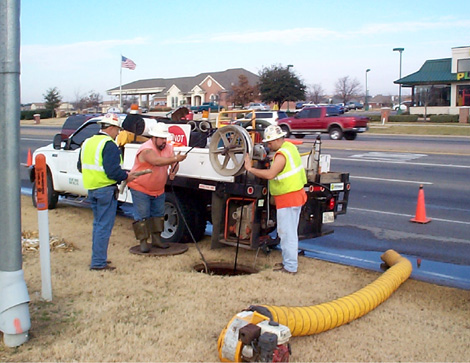 Verizon has already won franchise agreements in the tiny Texas cities of Sachse, Westlake, and Wylie, where it has been challenged by cable provider Comcast Corp. (Nasdaq: CMCSA, CMCSK) on at least one occasion.

But last night, it was Charter taking issue with Verizon's franchise agreement, saying it allows the RBOC to cherry-pick its service area. "Charter does not object to fair competition, but only if the playing field is level," says Joel Ballew, Charter's local director of government relations.

Charter's main beef with Verizon's cable franchise agreement isn't that Verizon will compete for some of its business. It's that Verizon isn't forced to compete for all of its business.

Specifically, the two carriers operate under very different cable franchise agreements. One big point of contention is that Charter was required to provide service to everyone in Keller under its agreement. Verizon, however, is only required to serve those in its territory -- and it has the option to come back at a later date and build out its network to reach into SBC's territory.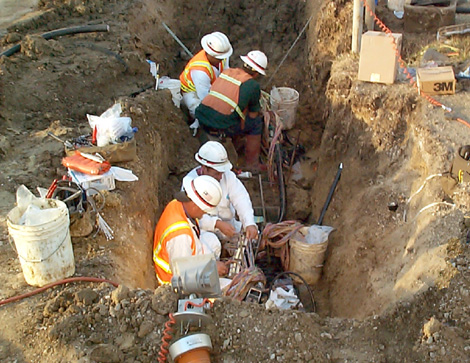 "We're being penalized for having been here first," says Sharan Wilson, a VP and general manger for Charter, who spoke with Light Reading after the Council meeting. Wilson says it costs a cable company $30,000 a mile to build a cable TV network, and Verizon saves millions in capital expenditures by being allowed to choose to just provide video service to consumers in its telephone service area.

Verizon argues that its fiber network was merely an upgrade to its existing facilities, and its video services are just one more service traversing that network. The objections to franchise agreements are "a tactic we believe that the cable companies are using to delay and preserve their monopolies," says Keller resident David O. Russell, who is Verizon's VP of External Affairs, Southwest Region.

"There is no law that requires a full [video services] build-out," Russell adds.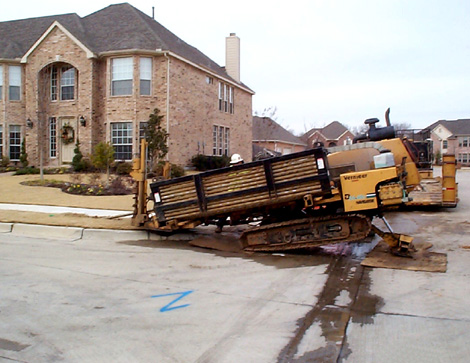 Meanwhile, Verizon's FTTP machine rolls on. The carrier has announced it is deploying its FTTP network in parts of 12 states. In fact, Verizon says it is passing homes and small businesses at a rate of about 35,000 to 40,000 per week, and the carrier has almost passed one million homes and businesses (see Tracking Verizon's FTTP Progress).

— Phil Harvey, News Editor, Light Reading