Three key providers of multiservice edge equipment are scheduled to join in a discussion on one of the telecom industry's hottest topics this year -- carrier requirements for converged IP/MPLS backbones -- in a Light Reading Webinar entitled "The Service Edge" on Thursday, May 27.

The vendors are: The Webinar will detail why multiservice edge equipment is hot: Namely, such gear enables carriers to roll out new services, such as Ethernet and Layer 3 VPNs, at the same time as cutting the cost of providing legacy services, such as private circuits lines and Frame Relay.

The presentation will make use of a Heavy Reading survey of 404 service providers -- 2004 Survey of Carrier Attitudes Toward IP/MPLS Backbones and VPNs -- to demonstrate that many carriers are already offering services over IP/MPLS backbones, and expect revenues from them to double next year.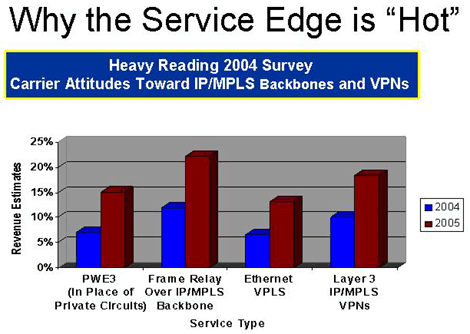 The Webinar will also review key attributes for multiservice edge equipment from three perspectives: the business case, device technology, and wider operational issues.

The three vendors will undertake to explain how they address these issues, and discuss whether these requirements call for multiservice edge equipment to be built from scratch (as Nortel and Tellabs/Vivace have done) or whether existing equipment can be adapted (the Cisco approach).

"The Service Edge" is free to attend and will be archived for later viewing. To register, please click on this link. It's scheduled for broadcast on Thursday, May 27, at 2:00 p.m. New York / 7:00 p.m. London time.

— Peter Heywood, Founding Editor, Light Reading


---
Archives of Related Light Reading Webinars: